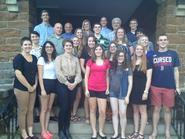 Hamilton's Honor Court hosted a two-day conference on campus on September 26-27 to discuss the strengths and weaknesses of various approaches to introducing, maintaining and enforcing honor codes. The court invited members of honor courts at several liberal arts college, including Union, Haverford, Davidson and Reed, selected for the strength of their own honor code traditions. A total of 14 students and two administrators from those schools traveled to Hamilton to take part in a series of workshops on various aspects of honor codes, joined by the student and faculty members of Hamilton's Honor Court.
The central purpose of the conference was to compare best practices, particularly focusing on how to strengthen student and faculty culture around and support for the honor code. Six separate workshops and a final, plenary session were held on topics such as "Orientation and First-year Education on the Honor Code," "Student Ownership of Their Own Honor," "Academic vs Social Honor Codes" and "Student Enforcement of the Code: Confrontation and Reporting." A member of Hamilton's Honor Court chaired each session, all of which produced lively discussions, comparing notes on how the schools' traditions and processes varied as well as recent innovations that worked or failed. All participants reported leaving the conference bursting with ideas from the other institutions that they planned to implement in some form on their own campuses.
The conference was part of a larger process the Honor Court is undertaking to strengthen Hamilton's century-old honor code tradition. The court conducted a survey of both faculty and students in spring 2014 and strengthened honor code education during first-year orientation in August. In a change from past practice, all members of the class of 2018 signed the honor code, pledging to uphold it, just before signing the historic register at matriculation. This sequence was to symbolize the centrality of the honor code in the life of the college. The Honor Court is planning a series of follow-up discussions to consider implementing some of the many ideas they took away from the conference.