Hamilton Hosts MAALACT Conference
---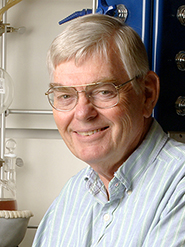 Hamilton hosted the annual meeting of MAALACT, the Middle Atlantic Association of Liberal Arts Chemistry Teachers, on Oct. 7-8. Founded in 1967, the organization includes chemistry faculty from liberal arts colleges in the Middle Atlantic states and eastern N.Y. that gather yearly to discuss a variety of curricular matters, laboratory safety, how to get grants and other matters of interest.
The event was organized and programmed by Silas D. Childs Professor of Chemistry emeritus and president of MAALACT Robin Kinnel and Professor of Chemistry Karen Brewer. Terry Collins, the Teresa Heinz Professor of Green Chemistry and head of the Institute for Green Chemistry at Carnegie Mellon University, gave the plenary lecture on Friday evening. Collins has championed the green chemistry cause for more than two decades and described his perceptions about the dangers of the present rate of energy consumption and the consequent growth in greenhouse gases, as well as the responsibilities of chemists to find ways of reducing toxic environmental pollutants that pose a serious health hazard. He specifically mentioned birth control pills which are excreted essentially unchanged in their chemical nature and are endocrine disruptors for fish, resulting in reproductive problems. Collins and his students at Carnegie are working to develop catalysts that can be used with hydrogen peroxide to rid water supplies of a variety of pollutants that are endocrine disrupters.
On Saturday, conference attendees from about 30 different institutions heard short presentations from Kinnel and Brewer, along with contributions from Associate Professor of Chemistry Myriam Cotten and Brian Hansen, director of environmental protection, safety and sustainability for the College.