NYC Program Students Visit Tenement Museum
---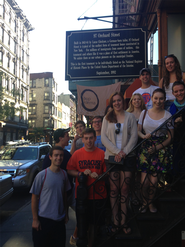 Students in the Hamilton Program in New York visited the Tenement Museum on Sept. 18. The museum, located in a restored tenement on the Lower East Side, gave insight into the lives of working immigrants during the 19th and 20th centuries. The students toured various rooms in the tenement that each depicted a certain time period in the history of the building.
The group was able to see the transformation of the building and the lives of its residents over time. Initially, the tenement was a home for German immigrants who worked in small sweatshops in their own home, producing mostly garments and textiles. Eventually, a large Jewish population seeking to escape religious persecution in Eastern Europe replaced the Germans as the predominant immigrant group in the neighborhood. At this time, sweatshops were migrating to outside the home, becoming the large, impersonal sweatshops that one likely envisions when they hear the word "sweatshop."
The first-hand look at the living and working conditions of 19th and 20th century immigrants acted as a supplement to the students' classes in labor economics and employment relations.