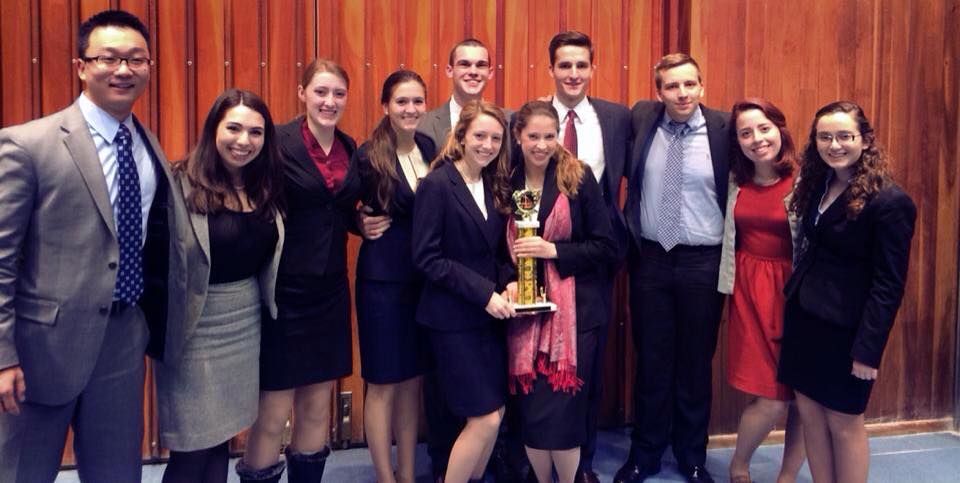 Following a 5th place finish at the Colgate Classic in the beginning of November, the Hamilton College Mock Trial Team finished 7-0-1 at the University of Rochester's Yellowjacket Invitational, taking home a first place trophy for the first time this season.
This year's American Mock Trial Association (AMTA) case is a complicated civil suit. Andy and Lee Park, the plaintiffs, tragically lost their 11-year-old daughter, Sydney, when she was fatally shot in their home while the parents were at work. The Parks owned a gun, and when Sydney and her friend Jesse Duran were playing with it one morning when they were left home alone at the Parks' house, Sydney died from a gunshot wound to the head. Exactly how Sydney was shot is left for both the plaintiff and the defense to decide in this case. Because of how Sydney died, the Parks are bringing suit against Hayden Duran (Jesse's parent) -- this is where AMTA threw teams a curveball this year.
There are two possible complaints for the plaintiff to choose from -- intentional shooting (on the part of Jesse Duran) or negligent parental supervision (on the part of Hayden Duran). Because of this, the defense attorneys have to be prepared for both cases.
Hamilton faced tough competition in each round of the tournament at the University of Rochester. Two judges scored each trial using official AMTA ballots based on the performance of the teams. Hamilton's defense first faced the host team University of Rochester, winning both ballots. The plaintiff then faced Canisius B, winning both ballots, sending the team into Day 2 with a 4-0 record. Sunday started with the plaintiff side squaring off against Rutgers University, with Hamilton taking both ballots.
With this win, Hamilton entered what was effectively the championship round against Cornell University, both teams undefeated at 6-0. The final round, held in an ornate and spacious room in the library, featured two judges, a 7-person jury, and even a few Mock Trial parents. By far the best trial of the tournament, both ballots came down to the wire. After tying one ballot and taking the other by a +1 margin, Hamilton emerged victorious from the final round and took home the 1st place trophy at the closing ceremony. Ryan Bloom, '18, one of the team's promising first-year witnesses, won an Outstanding Witness Award for her performance as an investigator on the plaintiff.
This marks the second year in a row that Hamilton won 1st place at the Yellowjacket Invitational in Rochester. The team thanks the hosts at the University of Rochester for a well-run and enjoyable event. Hamilton's team looks forward to competing in New Haven, Ct., at the Yale University Invitational on Dec. 6 and 7.