Hamilton College President David Wippman announced the death of Life Trustee Elizabeth McCormack in an email to the Hamilton community on Dec. 4.
Dear Members of the Hamilton Community,
With great sadness and a heavy heart, I write to inform you that Life Trustee Elizabeth McCormack died this morning. She lived 98 full and influential years and was most recently on campus in March for the quarterly meeting of the Board of Trustees.
Elizabeth was a role model for so many of us in higher education. It was a privilege to know her and benefit from her expert counsel. She was one of the most admired, most influential, and most respected leaders in higher education, and Hamilton is especially fortunate that she chose to serve as a trustee on College Hill, first for Kirkland College beginning in 1975, and since 1978 for Hamilton. For 45 years, her intelligent and generous spirit helped shape the institution we are.
On the 40th anniversary of Elizabeth's service to Kirkland and Hamilton, former Hamilton President Joan Stewart announced a new award, named it for Elizabeth, and fittingly designated her its first recipient. The Elizabeth J. McCormack Presidential Counselor Award is given at the discretion of the president to "an adviser of uncommon generosity, wisdom, and influence." Not surprisingly, Hamilton's rise in stature has coincided with Elizabeth's association with the College. It is hard to imagine Hamilton without her.
Elizabeth graduated in 1944 from Manhattanville College, received a master's degree from Providence College, and was awarded a Ph.D. from Fordham University. She joined the Society of the Sacred Heart and in 1966 was named president of Manhattanville, which was transformed during her tenure from a traditional Catholic women's college to a nonsectarian coeducational institution. As president of her alma mater, she once said "a college committed to inquiry and social concerns cannot be static, finished, closed." Wise advice then and now.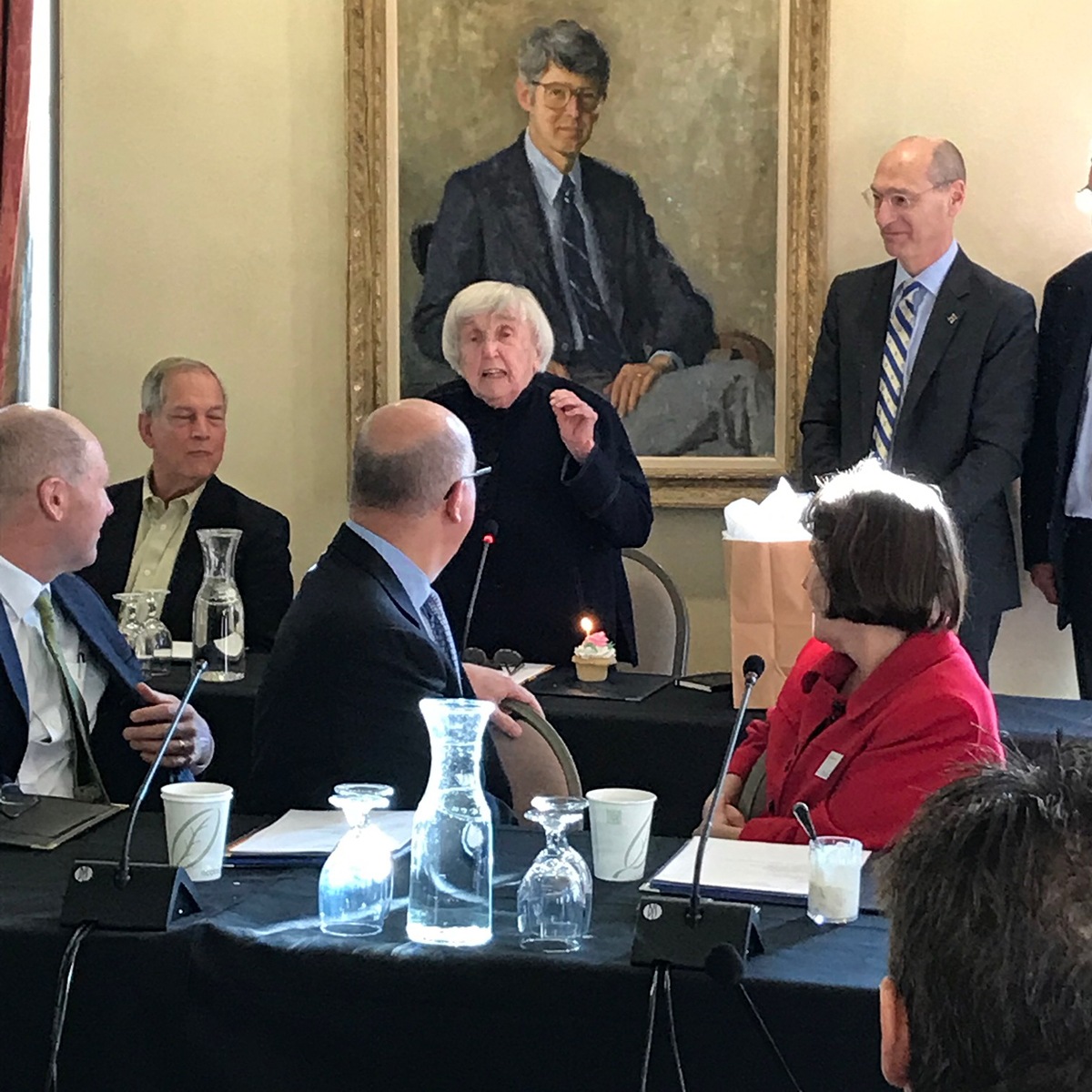 In addition to serving as head of the Rockefeller Family Philanthropic Office, for which she advised the Rockefellers on their charitable responsibilities, Elizabeth was associated with countless other educational, cultural, philanthropic, and humanitarian organizations. They prominently included the American Academy of Arts and Sciences; the Asian Cultural Council; the American Academy in Rome; the Trust for Mutual Understanding; the Council on Foreign Relations; the John D. and Catherine T. MacArthur Foundation; Spelman, Swarthmore, and Marlboro colleges; and the Julliard School. In addition to Hamilton and Manhattanville, she received honorary degrees from Princeton, Brandeis, Julliard, the American University in Paris, and the City University of New York, among others. In 2012, No Ordinary Life: The Biography of Elizabeth J. McCormack, was published on the occasion of her 90th birthday. The title of that book captured Elizabeth's essence.
Higher education and Hamilton have lost one of their most influential and beloved leaders.
David
Read the Manhattanville College tribute to Elizabeth McCormack
The New York Times obituary of Elizabeth McCormack