Hamilton Mourns Professor Fred Wagner
---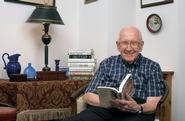 Hamilton President Joan Hinde Stewart announced in an e-mail to the campus community the death of long-time Professor Fred Wagner:
I write with sadness to inform you that Professor of English Emeritus Frederick R. Wagner died Sunday, Oct. 28, in Utica. He was 84.
After working for a decade in the book publishing industry, Fred came to Hamilton in 1969 because he wanted to do "something of value." He immediately developed a following among students as an outstanding teacher specializing in American literature. One of his favorite courses to teach was Faulkner and his Southern Contemporaries, although he also enjoyed teaching American Literary Autobiography.
In 1990, when the Christian A. Johnson Excellence in Teaching Professorship was established, Fred was the obvious choice to be its inaugural recipient. "Teaching was the center of my life," he once said. "I put everything aside for teaching – preparing for classes, correcting essays, having discussion groups." Students recognized his enthusiasm and perseverance; Fred's classes were described as "lessons in literature and life."
The co-valedictorian of his high school class, Fred graduated summa cum laude and first in his class from Duke University in 1948. Two years later he received his master's degree from Duke, before serving in the U.S. Army from 1951 to 1953 and then beginning a career in publishing. It was not until 1971 that he received his Ph.D., also from Duke, at which point he was already on the faculty at Hamilton. He served as chair of the English Department from 1978 to 1990 and was a member of Phi Beta Kappa, the Hawthorne Society and the Thoreau Society, for which he served as president. Fred retired from the Hamilton faculty in 1995.
We will celebrate Professor Wagner's life and contributions to the Hamilton community later this year. In the meantime, donations in Fred's memory may be directed to the Frederick Reese Wagner Prize Scholarship Fund at Hamilton.
Reflections
Everything that I value about the education I received from Hamilton can be crystallized in the memories of Fred Wagner's lit classes. Whether sitting in one of Root's larger classrooms, learning incidentally about the correct way to pronounce Thoreau's name (which annoys everyone I in turn try to correct) or in one of the smaller seminar rooms, parsing Faulkner, Katherine Ann Porter, or Flannery O'Connor in debates and discussions that were punctuated by Fred's explosive laugh and precise observations. He was the best of the best, a true lover of writing, humor, exactitude, and most importantly, a sincere believer in his students' innate intelligence.
- Sarah Tittle '83
In his opening remarks during our 1974 inaugural class in Nineteenth Century American Literature Fred gave out his home phone number, encouraged us to use it, and told us if he did not wish to speak he would simply not answer the phone, as his way of telling us there was no risk in actually calling him at home. I quickly became enamored with Fred's open, engaging, wry methods and we became good friends debating the nuances of Twain, Peter Sellers or dinner. We got together in places as distant as Stratford, Ontario (where he claimed I could find Fred and Ed Barrett foraging for scraps in dumpsters at the Shakespeare festival) to his more recent home in Utica. In a moment of weakness, he asked me, an economics major, to speak at his retirement luncheon, a day I fondly remember. When I was a senior he published Robert Morris: Audacious Patriot. I wrote to him thanking him for writing my unauthorized biography. His witty return note was signed: Boswell. Our friendship through cards, letters, calls and visits over the years flourished and his passing leaves a hollow feeling only moderated by the warmth of my many memories of him. My deepest condolences to his son and his family.
- Robert Morris '76
When I sit at a seminar table with my own students, the model upon which I draw--30 years and many classes later--is still Professor Wagner. He created an environment where students were encouraged to make any contribution as long as it was sincerely offered, and based in the text, of course. I am saddened by the loss of this great teacher, but I will try to honor his memory whenever I step into a classroom.
-Cathy Crosby-Currie, '83
I often think of Jean D'Costa once observing that Professor Wagner approached every meal by first considering what he would have for dessert and then planning the rest of his dinner around that. Of all his many, many lessons to me, this idea that you must be mindful of what will make you happy in the end has stayed with me in the most profound ways. He was a true teacher of literature, of students, and of life.
- Jen Bradford '89
Fred Wagner was one of the greatest teachers I've ever had. He inspired literally generations of students and made them love what he taught. He was also a man of genuine warmth and kindness with an excellent and broad-minded sense of humor. Though his appearance may have suggested (to the shallow) a conservative, even prudish bent, he always loved the new, daring, and original, as demonstrated by his love of "Pulp Fiction" and "Clerks." I'll miss him.
- Jake Riordan
Professor Wagner's American Literature classes provide some of my fondest memories of life on the Hill. His classes were inspiring; always leading to insightful and entertaining discussions about literature and life. Although I was a history major, once I took a class from him, I didn't stop. Every semester thenceforth, I had to have a class with Professor Wagner. I distinctly recall the first lecture after starting "The Sound and the Fury," and his advice to keep reading because it will all make sense in the end. That began my love of all things Faulkner. I will always remember his warm laugh. He was and will always be a beloved professor.
- Margaret Surowka Rossi
So many memories of Fred's class - sitting around a table in his office chewing over Melville, or Eliot, or O'Connor, or, especially and most memorably, Faulkner. He at his desk, chain-smoking, in the early days when that was still de rigueur. The coffee flowing. Through happy accident, an error in the course catalogue opened his 20th Century American Lit class to first-years my initial spring semester there. To me, that class was everything I wanted college to be. Its intimate, intellectual setting comes back to me 30 years later as if just yesterday. I kept in touch with Fred after graduation, as no doubt so many of us did, and saw him a few times, most recently just a few years ago. I was fortunate to attend his retirement fete at the College in 1995 (year?). Alerted by that week's Spectator to the latest disappearance of Alexander Hamilton's statue from its perch in front of the Chapel, I told Fred that the key to his retirement was to keep moving, lest he be carted off like Alexander. That brought the inimitable Wagner laugh that echoes down again to me across the years. Fred taught us all so much more than literature, his gentle, understated, affable brilliance nurturing our incipient intellectual exploits and giving them safe harbor. "The past is never dead. It's not even past," Faulkner wrote in Requiem for a Nun. I think of Fred now, and my entire Hamilton experience, in this context.
- William Dentzer
His was one of those classes you never forget- 20th Century American Literature. I remember the room and the light and the readings! Faulkner, Saul Bellow (!). So much to learn about life. Thank You, Fred.
- Kristen Sanders Smyth
To call Fred inspiring only begins to address his warmth, charisma and insight as a teacher and human being. He taught with love -- not merely for books and language, but for us. Three things I'll never forget about him: his mesmerizing lectures, which were meticulously planned and punctuated with "umms;" his habit of shutting off the ringer on his phone during discussion sections, then listening intently and lobbing rare pearls of wisdom into the confab; and his explosive, propulsive laugh (which Bill touched on above). In my mind and in the minds of all who knew and loved "Daddy Wags," that laugh will echo forever down the stairs of Root Hall.
- Amy Biancolli Ringwald '85
When people question the value of a small, liberal arts college I always tell them this story. Junior year in the 1980s - before personal computers - when English and Government papers were typed (and in my case - revised - at the keyboard). Conflicting due dates for a Government paper and English essay - and I had to hand off a (very) rough draft of my English paper to a friend to type while I attempted to revise a government paper at the keyboard. I received my English paper back with a "please see me" note from Professor Wagner - sans grade. I walked into Professor Wagner's office like a condemned man - Professor Wagner asked me what was wrong and kindly pointed out that this was not up to my usual standards (like I had standards...). He offered me the chance to revise my paper which I gratefully accepted. How many professors at a large university would know their students' "usual standards," let alone even grade an undergraduate's paper? But this story also speaks volumes for the kindness that made Professor Wagner such a hero to me. I teach now because of people like Fred Wagner. He will be missed.
- Jonathan Magruder
My sincere condolences to the Wagner family. A note of remembrance and gratitude: Faulkner Seminar was, simply put, life changingly great. I recall our discussions fondly and 20+ years later still try to work out his koan (as I see it) about Joe Christmas! More important to me now though is how well Fred listened. And is that not, during those tender college years, what we all want? To be truly heard for the first time! That was his gift to all of us who were fortunate enough to have taken his classes or to have sat a while with him chatting about books and movies. The fact that he listened emboldened us to be our best. I will miss him very much.
- Nelson Kim
Fred was a kind and challenging teacher, an editor with uncompromising standards and endess patience, and a sincere friend whose inspiration in 1974 changed my life -- when I took English 41 and discovered how much I love to write. Elise and I visited him two years ago, and as always we laughed and laughed. Like others writing in this blog, I will always remember his laugh -- along with his pithy comments, written forcefully and meticulously in red ink in the margins of my papers. I still have them all, and when I occasionally pull them out they still inspire me to reach higher. I will also remember his eyes, unwavering as he listened to my plan to fix a story that had stalled out. He was an intense, respectful listener. His respect was empowering, because it replaced my self-doubt with discipline and confidence. This may be the greatest gift a teacher can give a student. Thanks, Fred.
- Don Condit '75
I will always hold Fred Wagner in the highest esteem; the sparkle in his eyes as he listened, the generous laugh in his comment--you were always thankful in your heart to be sharing the moment in his company.
- Christopher Canterbury
It is fall 1973 and I am taking Fred's Restoration Comedy class. Towards the end of the term the class is invited to go to Fred's home on a Sunday afternoon to listen to a recording of one of the comedies. Fred served sherry and offered comments as we listened. It is one of my favorite Hamilton memories.
- Ed Watkins
More than 25 years later, I still hear Fred Wagner's voice in my head when I teach Emerson or Thoreau, and hope that I am as nearly as true to their literary intent as he was. For our cherished professor, the roles of teacher and scholar were indistinguishable. I'm grateful to have encountered this gentle, solid soul.
- Ashley Cook Cleere
When I first entered Professor Wagner's "classroom" and he began to speak I thought to myself that I may be in way over my head. His initial formality was soon superseded by his warmth, laughter and encouragement of all points of view. Professor Wagner's ability to listen and provoke discussion made everyone feel at home and he instilled in us the desire to be the best students we could be. Just as all who have commented already have said, his laughter will never be forgotten nor will the way he respected all of us for who we were at that time. May fond memories of Fred Wagner comfort all who will miss him.
- Jennifer Flack Geduldig
My memories of classes with Professor Wagner are indelible. He masterfully guided us through the intricacies of the text and the exploration of some of the most profound themes in literature and, indeed, life. Always a consummate listener, his ability to hear, understand, and validate our perceptions and insights inspires me even these many decades later. His outward persona was always "centered" and reasonable, yet the quiet, still demeanor belonged to a person of great passion about the things in which he believed. A wonderful teacher and a truly kind person. He will be missed.
- Wendy Luftig K'76
I too will never forget the curls of smoke rising through his desk lamp. And the voice. And the laugh. But most of all, his masterful use of silence. Fred Wagner was teaching even when he was not saying anything.
- Jim Morey '83
My love of Hamilton and of the study of literature will always be inextricably tied to a deep admiration, respect and appreciation for Fred Wagner. He defined the place and the job of teaching with his insight, his humility, his graciousness, his humanity and the moments when all of these were punctuated by a deep, rumbling guffaw- his laughter being at least the equal to all of those other superlative traits in my memory.
- Doug Lemov
When I think about educators who have impacted my life, Professor Wagner immediately comes to mind. Every time I draft a letter, proposal, or missive of any kind, his words resonate with me. I am compelled not to use "this" or "that," to be concise yet comprehensive, and to write something meaningful. Even as I draft this note, his voice is in my head encouraging me and demanding my best. I send my condolences to his family at this difficult time. Please know the tremendous impact he had on all of his students. He taught us to think and write. He enabled us to understand and enjoy literature to the fullest. He empowered us, regardless of our career path, to be effective communicators. We use what he taught us each and every day.
- Stephanie Nelson Wimmer
Fred Wagner was everything that a teacher should be. His standards were high and it was evident to all of us that he poured all of his energy into preparing lectures, grading essays and meeting with us. Fred was genuinely interested in his students, was kind, and often showed a wholly genuine personal concern. His explosive chuckle is something that most of his students will forever remember.
- Dan Trachtman