Hamilton Names Kara Novak '08 as Second GOLD Scholar
---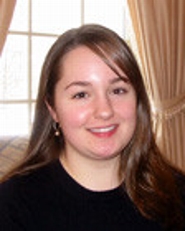 Hamilton College is pleased to name Kara Novak, a junior from Carthage, N.Y., as its second GOLD Scholar.
Novak is a double major in math and music - a path that she feels Hamilton offers with particular skill. As a prospective student, Kara had considered other colleges with similar courses of study but discovered that the more arts-oriented schools would not offer her a full complement of math courses and technically oriented schools would not allow her to pursue music as fully as she wished. Enjoying music, math and the qualities that they share, Novak hopes to incorporate mathematics principles into her senior-year music thesis.
She has not limited her study to her two concentrations however, as an anthropology/linguistics course with Professor Bonnie Urciuoli intrigued Kara so much that she enrolled in the second semester session of the course.
Outside the classroom, Novak's involvement has expanded well beyond the co-curricular activities she participated in during high school. Following her father's advice to "do something you wouldn't ordinarily do," she became involved in Student Assembly. In the fall of her sophomore year, she served on the Elections Committee and later elected committee chair. She appreciates her role in Student Assembly, not only because it allows her to help shape campus life, but also because it expands the universe of Hamiltonians with whom she interacts.
"Hamilton is distinctive in its ability to offer opportunities that I wouldn't have anywhere else," Novak said. "Coming from a small town, I wasn't sure if the small-campus environment was ideal for me. But after coming to Hamilton, Associate Professor [of Music] Rob Hopkins invited my classmates and me to his house and made the best cheesecake any of us have ever had. Times like that make me recognize the value of Hamilton."
Just when Kara thinks her schedule can't get busier, it does. Because of this, she has come to enjoy honing her time management skills. Novak attends weekly Newman Council meetings and participates in its community service activities. She is a Music Department staff pianist, accompanying music students in lessons and recitals, and has played clarinet in Hamilton's orchestra for all of her three years on the Hill.
And her future plans? "After sky-diving with friends while spending last summer on campus, I might want to do that again, but, more seriously, I'm planning to go to law school," she said. "I'm not sure what path I'll pursue when I get there, but my experiences at Hamilton will guide me in the right direction."
GOLD Scholars is an initiative supported by the Annual Fund, which has always provided direct support for the College's most important current priorities, especially scholarship aid. Starting this year, gifts from the GOLD Group – Graduates of the Last Decade – will specifically support students on campus. With each $15,000 increment collectively contributed, the College will select a student as a GOLD Scholar for 2006-07.