Hamilton Outing Club Ventures to Ecuador
---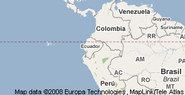 Eight Hamilton students along with Director of Outdoor Leadership Andrew Jillings and Assistant Director of Outdoor Leadership Sarah Weis are spending part of the winter break on a Hamilton Outing Club (HOC) trip to Ecuador. The trip began in Quito on Dec. 27 and will end on Jan. 17. Student participants are Taylor Adams '11, Nick Costantino '12, Jane Cowles '10, Dave Goldberg '11, Nick Green '12, Callie Krumholz '10, Lars Margolis '09 and Jeff Seymour '09.
This is HOC's fifth trip to Ecuador. The trip started with some time in Quito to acclimatize, then began a four-day trek to the remote village of Pinon. Participants are now taking day hikes on progressively taller and whiter mountains until they attempt the summits of Cayembe (18,996), the highest place on the equator and the only one with snow, and Cotopaxi (19,347), the second highest peak in Ecuador. They will finish the trip with a visit to the Amazon.
Jillings has set up a SPOT device, a GPS transmitter that sends a signal to a satellite that shows the
location of the climbers in real time
on a Google map.