Hamilton Presents Jazz and Choral Music April 12 and 13
---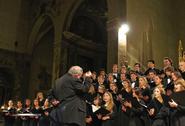 Hamilton College presents free jazz and choral music this weekend in Wellin Hall, Schambach Center for Music and the Performing Arts.
On Friday, April 12, at 7:30 p.m., jazz guitarists Gene Bertoncini and Rick Balestra will present an acoustic concert of jazz standards and music from the great American songbook.
A prolific and popular studio musician, Bertoncini performed as a member of the Tonight Show band during Johnny Carson's tenure. He has worked with composers and arrangers such as Lalo Schifrin and Michael Legrand and has performed with the Metropolitan Opera Orchestra. According to the New Yorker magazine, "Bertoncini is an affecting, highly original guitarist that moves easily back and forth between classical and jazz guitar."
Rick Balestra received his master's degree in music from Ithaca College in 1992. He teaches guitar at SUNY Oswego, Colgate University, and Hamilton College. Besides being an active music educator, Balestra is also a live performer. He has performed in a number of local and regional jazz festivals including the Syracuse M&T Jazz Festival, the SUNY Oswego Jazz Guitar Festival, Glenora Wine Jazz Series, and Rochester's Cornhill Festival.
On Saturday, April 13, at 7:30 p.m., the Hamilton College Choir performs the home concert of their recently completed Italian Spring Break Tour. G. Roberts Kolb conducts the choir in a repeat of the performance they sang in several cities throughout Italy. The concert will feature works for the entire choir and pieces for the smaller ensemble, the College Hill Singers.
Both events are free and open to the public. For more information, call the box office at 859-4331 or visit www.hamiltonpa.org.