Hamilton Recognized in 2008 Campus Votes Challenge
---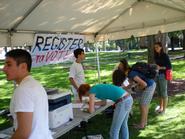 Hamilton was recognized with an honorable mention citation in the 2008 Campus Votes Challenge, a program that sought to encourage voting at colleges and universities nationwide during the 2008 presidential election. The College was among more than 40 undergraduate colleges and universities across the nation that participated in the challenge.
Tisch College of Citizenship and Public Service at Tufts University administered the program and calculated the national average for voter turnout among all 18-24 year old college students to be 59.7 percent. The seven winners of the 2008 Campus Votes Challenge were those institutions with a demonstrated turnout greater than 70 percent, while the 15 intuitions given honorable mention demonstrated a turnout greater than 60 percent.
Hamilton's voter turnout was calculated by verifying the votes of the students whose surveys the College submitted. The Campus Votes Challenge compared this survey data to an independent database which collects publicly available voter records from each Secretary of State. These public records only indicate whether or not an individual voted and do not include how a person voted.
"This friendly contest helped energize college and university efforts to get out the vote in last year's election," said Tufts University President Lawrence S. Bacow. "It also offered our institutions an opportunity to demonstrate the positive impact of our efforts on student voting. Most campuses sponsor voter registration efforts, but it is difficult to gauge their impact. The Campus Votes Challenge addressed that issue by providing independent third-party verification of campuses' undergraduate voting rate."
The Campus Votes Challenge started grew out of Campus Compact's 2008 Voter Initiative. Campus Compact is a nonprofit coalition of more than 1,100 college and university presidents—representing six million students—who are committed to fulfilling the civic purposes of higher education. As the only national association dedicated to this mission, Campus Compact is a leader in building civic engagement into campus and academic life.