Hamilton Recognizes Student EMTS for National Collegiate EMS Week
---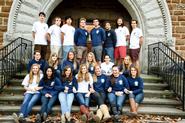 When there is an emergency involving illness or injury on Hamilton's campus, student EMTs can reach somebody in need within minutes. The team that forms Hamilton College Emergency Medical Services (HCEMS) consists of 21 students from a wide variety of backgrounds and interests. This week, Hamilton recognizes their efforts through the National Collegiate Emergency Services Foundation's National Collegiate EMS Week.

The current active members of HCEMS include seniors Ethan Ayres, Jamie Azdair, Melanie Hundt, Connor Polet, Ashley Sutton and Alvin Wu. Junior class members are Phil Conkling, Jenna Durkee, Liza Gergenti, Tara Hansen, Rob Hayden, Jackie Jasuta, Spencer Olsson and James Stanell. Sophomores on the squad are Amal Asghar, Katherine Callahan, Laura McCormick, Lillian McCullough, Kathleen Moran, Marie Murray and Amy Wright.
Some students believe that becoming an EMT introduces them to the field of medicine in a unique, hands-on way. As a first-year student, Ashley Sutton '13, a neuroscience major, was torn between medical school and graduate school in psychology. Now a senior, she has made the decision in favor of psychology, and she believes that her time as an EMT played a role in making this choice. In particular, she learned that she is interested in the psychological aspect of emergencies, and she looks forward to pursuing this interest in more depth after Hamilton.
Others are uninterested in a medical profession, and they volunteer as EMTs for its exciting and highly rewarding nature. James Stanell '14, an economics major, worked at a McDonald's restaurant drive-through window before coming to Hamilton. The restaurant was near a busy intersection, and Stanell witnessed several accidents while at work. These situations made him feel powerless, and so upon arriving at Hamilton and learning about the EMT program, he decided to enroll.
The decision to become an EMT typically stems from this desire to help others in emergency situations. Lillian McCullough '15 explains that being an EMT is particularly rewarding because the results of her actions can often have an immediate, positive effect, making injured or sick people feel more at ease. Every other student who was interviewed cited this as a primary reason for becoming an EMT. For example, Sutton was an EMT in her hometown before coming to Hamilton, and so she was already accustomed to the high-energy environment of responding to calls.
Furthermore, being an EMT introduces students to a new group of friends that is bonded together by a semester of training and subsequent work together. Understandably, responding to emergency calls can be an extremely nerve-wracking experience, especially for "rookie" EMTs who are newly certified. However, rookies generally make the adjustment quickly, and they are always on call with "veteran" EMTs until they develop more confidence and skill.
Alvin Wu '13, a biochemistry major, explains that now, as a veteran, he feels helping rookies comes naturally, and the anxiety that used to follow him on calls dissipated very quickly. Part of the reason for this rapid learning curve was the support he got from older students.
The smooth transition from nervous rookie to skilled veteran is not accidental. Students are involved not just in responding to calls, but also in many other operations pertaining to emergency medicine. Sutton worked with Director of Emergency Medical Services Diann Lynch to help select the new recruits for the program. They looked for students who are team players, manage stress well, and stay calm in emergencies. According to Sutton, the most important quality that a student EMT can have is that ability to work well with the rest of the group. This helps ensure that EMTs trust one another and learn from one another.
Other responsibilities that students take on involve the physical equipment that EMTs carry or otherwise rely on. As the team's equipment officer, Wu makes sure that the stock room is full and he inspects the College's AED systems every month. If any piece of equipment is left on an ambulance with a student, it is his responsibility to retrieve it.
Some might assume that being an EMT prevents students from exploring other extracurricular interests or interferes with class work. On the contrary, students often report that their duties as EMTs have helped them develop time and stress management skills, allowing them to balance varied interests. For example, Stanell, a member of the football team, is often on call overnight during football season because students cannot be on call during practice or games. Wu, a teaching assistant in a chemistry lab, also works his on call schedule around his other commitments. The schedule is generally flexible enough to allow students to switch shifts if they have a conflict.
The certification process takes a full semester in the spring. Students attend class for three hours a week, and they have an additional lab portion of their training over weekends. The course is free for students, who only pay for their own books and supplies. Once certified, Sutton, who is the group's scheduling officer, assigns shifts, ensuring that rookies are paired with veterans and that there are students on call 24 hours a day, seven days a week. Typically, students are on call approximately two times per week, for between 10 and 12 hours at a time.
The campus community depends on the presence of the EMTs. Their service is appreciated year round, but this week in particular we honor their irreplaceable commitment to this community.