Hamilton Remembers Life and Legacy of Nelson Mandela
---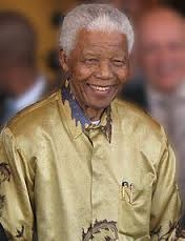 Hamilton joins with the world community in mourning the death and celebrating the life of Nelson Mandela.
In an interview on WUTR Professor of Philosophy Todd Franklin noted that Mandela leaves "A legacy of listening, a legacy of learning, a legacy of caring and a legacy of sharing."
"It was the loss of an icon for the world," he said. "Having a personal relationship with a member of the family, I recognize that it was a very deep and significant loss for the family as well so it was a very difficult moment that gives rise to a time of reflection," said Franklin.
"One thing that was really noteworthy when he was on trial was that he declared that he would rather die than give up his commitment to the principal of democracy," Franklin recalled.
In 1998 the Hamilton College community was fortunate to have heard from former president of South Africa F.W. de Klerk, who with Mandela played a major role in ending apartheid in South Africa. De Klerk spoke at Hamilton as part of the Sacerdote Great Names series. Mandela and de Klerk were co-recipients of the Nobel Peace Prize in 1993.
The Black and Latino Student Union sponsored a candle lighting ceremony to honor Mandela.
WUTR-CNY Central interviewed Franklin and Director of Opportunity Programs Phyllis Breland.