Hamilton Responds to Haiti
---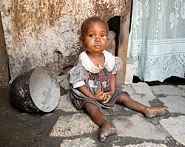 The earthquake that struck Haiti more than a month ago has left a devastating mark on the tiny island, particularly the capital city of Port-au-Prince. The Hamilton community has not forgotten the world off the Hill and the response to the earthquake and the need for aid has been inspiring.
Student groups such as the Social Justice Initiative, LUL and SLU have been selling bracelets at the men's basketball games as well as collecting food, clothing, and supplies. They collected $1224 that was donated to UNICEF. The Hamiltones, Special K, and Tumbling After, three of Hamilton's a capella groups, came together to perform in the Haiti Relief Benefit Concert. They sold food and CDs, and proceeds went to various causes in Haiti. Emerson Literary Society made Valentine's cards that they sold to raise money for relief efforts. They donated proceeds to Architecture for Humanity, an organization working to rebuild schools in Haiti.

The Students For International Public Health Awareness has changed the beneficiary of its collection boxes at OPUS 1 and 2 and the Mail Center to respond to the disaster. All proceeds for the boxes in the near future will be turned over to Partners in Health, a noted non-profit with a long history of work in Haiti. A FebFest event, HAVOC's Dodgeball Tournament on Feb. 20 also raised money for Haiti. Groups and clubs were encouraged to form a team and participate. BLSU sold candy grams for Valentine's Day to raise money for Haiti relief efforts.

Following are stories of some of the many alumni and parents who have been involved in some capacity with relief efforts:

Andrea Richardson '02 - American Jewish World Service

Andrea Richardson '02 serves as the senior program officer at American Jewish World Service. AJWS seeks to empower people throughout the developing world to achieve justice and self-sufficiency through the promotion of human rights, education, economic development, healthcare and sustainable agriculture. In response to the earthquake, AJWS has created the Haiti Earthquake Relief Fund to send immediate emergency aid to communities affected by this disaster. Particular focus is being placed on aiding populations in the crisis zone that have not already been targeted for large-scale relief, such as poor and rural areas outside Port-au-Prince. AJWS's long-standing partnerships in the region have enabled them to send funding directly to grantees in hard-hit areas on the ground who have the knowledge and capacity to spend the money effectively where it is most immediately needed.


Tom Succop '58-
Hopital Albert Schweitzer
As a member of the board of Hopital Albert Schweitzer (HAS) Haiti, located in in the Artibonite Valley several hours north of the Haitian capital of Port-au-Prince (PauP), Tom Succop is well-acquainted with the stresses placed on hospitals by the Haiti quake. In the evening following the quake, HAS received patients who arrived in the back of open pickup trucks from PauP, the epicenter of the quake. In the days that followed, HAS received and treated more than 850 quake-related patients, most of whom required surgery. (HAS pre-quake was an 80-100 bed hospital.) For more than two weeks, there was a major challenge to the doctors, nurses and supplies. Specialized surgical teams arrived from the U.S. and Canada to relieve the burden on the clinical staff and to provide definitive care to the many surgery patients suffering from trauma, crushed and broken bone injuries.
Through newly established supply lines supported by generous private donations, Hospital Albert Schweitzer continues to serve the population. Established in 1956, with a credo, "Reverance Pour La Vie," HAS is one of the few reference hospitals in Haiti and was a major factor in treating earthquake patients. Now, post-earthquake, there are thousands of people, Internally Displaced People (IDPs), fleeing PauP. Locally, there are so called tent-cities already in evidence. The challenge for HAS will be caring for all Haitians requiring health care.

Dan Florea P'11 -
International Relief & Development
Dan Florea P'11 serves as chairman of the board of International Relief & Development, an organization
that provides cost-effective relief and development programs in six core sectors: democracy and community development, economic growth, emergency response, food and agriculture, health and hygiene and rebuilding infrastructure. The Leogane district was the earthquake epicenter with 90 percent destruction. IRD has chosen Leogane as one of its primary development sites, hoping to assist with shelter, water repair, sanitation and latrines, and agriculture. IRD's emergency relief team was able to bring two truckloads of water with them from Dominican Republic to Port-au-Prince, and are meeting more than $8 million worth of commodities donated to IRD that have either already been flown or shipped in to Port-au-Prince, or are on their way. IRD will be distributing medical supplies, medicines, rehydration salts, solar-powered lights, water purifiers, hygiene kits, and other basic humanitarian aid. IRD will also focus its attention on larger sanitation system and water infrastructure repairs.
Judy Silverstein Gray K'78 - Operation Rainbow
Judy Silverstein Gray K'78 and her husband, Rich, aserve with Operation Rainbow a non-profit organization offering orthopaedic surgery gratis for indigent children and young adults in developing countries. Volunteers respond to community need, often in the wake of man-made or natural disasters. Given the scope of the Haitian earthquake, Operation Rainbow was asked to send surgical teams to the border town of Jimani, Domincan Republic. The camp where teams have been based since January housed nearly 250 refugees, functioned as a makeshift pediatric and adult hospital, Intensive Care Unit and served as an operating facility for survivors of the Haitian earthquake.
See images and stories from Haiti.
Nikki Barrett '08
-
Save the Children
Nikki Barrett '08 works with Save the Children, one of the many international aid organizations trying to help those affected by the earthquake. One month after Haiti experienced the worst natural disaster in its history, Save the Children has reached nearly 300,000 children and adults in the earthquake impact zone. Since the early hours after the disaster, the international humanitarian agency has been providing emergency assistance to save lives, alleviate suffering and support the recovery and protection of Haitian children and families. To date, Save the Children's child protection programs have benefited more than 15,000 children through 18 mobile child-friendly spaces in Port-au-Prince and Jacmel. In conjunction with UNICEF, the International Rescue Committee and the Red Cross, the organization is registering children at hospitals and in camps so as to trace their families and reunite them with loved ones.

Maria S. Choi '03, Brian R. Meyers '00 -

UNICEF
Two Hamilton graduates, if not more, have found a home at U.S. Fund for UNICEF, Maria Choi '03 as the marketing manager and Brian Meyers '00 as the director of development and emergency fund raising. UNICEF has been very active in trying to rehabilitate the devastated island, particularly its children. Even now the capital's Toussaint Louverture International Airport never sleeps.

Supply flights arrive 24- hours-a-day with essential aid

for those left homeless by the quake, including the most vulnerable survivors: orphaned and separated children.

Interventions in the critical areas of nutrition, safe water and sanitation are also being brought to scale

, to prevent malnutrition and disease outbreaks in camps for the displaced. Meanwhile, a major immunization campaign for more than 500,000 children under the age of 7 is ongoing. UNICEF's Role and Response to the Haiti Emergency.

Aaron Crosman '01 currently works as the web director at American Friends Service Committee. AFSC's work is based on the Quaker belief in the worth of every person and faith in the power of love to overcome violence and injustice. Among other service projects it has taken on in Haiti, AFSC has provided meals for thousands of individuals, sometimes partnering with Swiss Interchurch Aid to help facilitate the process. AFSC is also in the process of hiring staff in Haiti to continue examining avenues for ongoing AFSC work, set up an office, and coordinate with other organizations. Also, AFSC's offices in Newark, N.J., and Miami, have been helping Haitians acquire Temporary Protected Status, which temporarily allows them to live and work in the United States.


Tori Schacht '08 works as a development associate at the Salvation Army, an international movement that is an evangelical part of the universal Christian Church. It is currently in the midst of its largest international disaster response since the Indian Ocean Tsunami in 2005, providing immediate relief to Haiti since the earthquake struck the island on January 12. Teams of international disaster responders from The Salvation Army have joined more than 700 personnel permanently stationed in Haiti to deliver food, water, medicine and other aid supplies to people still suffering more than a month after the tragedy. As one of the largest social service organizations in Haiti, The Salvation Army was recently named by the United Nations (UN) as the "lead agency" responsible for well-being of an estimated 20,000 earthquake survivors. The organization will continue to serve those survivors while coordinating with other agencies and planning the country's long-term recovery. The Salvation Army will coordinate the relief efforts of several disaster response organizations for the community surrounding its main compound in the Saint Martin neighborhood in Port au Prince. This includes registering families so that appropriate aid supplies can be efficiently ordered and distributed, providing shelter that meets U.N. approved standards and establishing clean water sources, medical services and other basic necessities.
If you are working for an organization responding to the crisis in Haiti and would like to send us your news, please e-mail the Office of Alumni Relations
alumni@hamilton.edu
.