Bicentennial Week Celebrated at NYSE, U.S. Congress and NYS Senate
---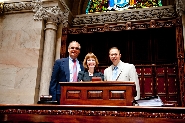 Hamilton College turns 200 on May 26, the day the New York Board of Regents granted the College its charter. Many entities are joining in the celebration. Some, including the U.S. House of Representatives, have already noted it with a statement read into the Congressional Record by U.S. Representative Richard Hanna (R-NY). Other events include:
Wednesday, May 23: The New York State Senate passed a resolution recognizing Hamilton's anniversary sponsored by Senator Joseph A. Griffo and co-sponsored by Senator David J. Valesky.
Thursday, May 24: Hamilton representatives will ring the Closing Bell at the New York Stock Exchange. (video will be available Thursday on the NYSE website)
Saturday, May 26: The College Arboretum will host an event that includes remarks from Professor John H. O'Neill, co-chair of the Bicentennial Committee. More ...
Wednesday, May 30: Kirkland, the town in which Hamilton is located, will issue a proclamation acknowledging the College's 200th anniversary.
Thursday, May 31 - Sunday, June 3: Reunions - A highlight will be the Bicentennial Meeting of the Alumni Association Saturday morning.
Recognition by the U.S. Senate is also anticipated.

Share the news of Hamilton's 200th anniversary by including #Hamilton200 in your Tweets and read the comments on Hamilton's Bicentennial website.