Highly Competitive Startalk Program is One of a Kind
---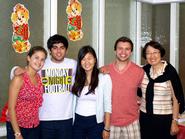 The Associated Colleges in China (ACC) Startalk teachers program is the only one of its kind to offer instruction solely for non-native-speaking Chinese teachers. The Startalk program was started at Hamilton three years ago by William R. Kenan Professor of East Asian Languages & Literature Hong Gang Jin with the help of a U.S. Department of State Startalk grant.
Jin has been involved in training Chinese teachers for the past 16 years and also serves as the director for the ACC. Hamilton received an additional U.S. Department of Education grant five years ago to operate as a feeder program for the ACC, thus making distance learning with Chinese professors possible. The teachers program began July 1 and continues through July 14 at Hamilton.
The Startalk program for teachers provides two weeks of classroom instruction and an additional 20 weekly distance learning sessions. The program is conducted entirely in Chinese in order to provide a total immersion experience. Program participants are taught language skills and vocabulary in the morning and pedagogy, or instructional methods, during the afternoon. They are also taught how to effectively use technology in the classroom and have the opportunity to engage in evening Skype sessions on cultural issues with teachers in Beijing. Language and pedagogy instruction work off of one another wherever possible, so that the morning vocabulary and language skills also play a role in the afternoon lessons. According to Professor Jin, Hamilton's Startalk program is "the most systematically designed and detail-oriented program in the country" thanks to its integration of language, pedagogy, technological instruction and distance learning.
Entrance into Hamilton's Startalk program is highly competitive, and all accepted participants receive a full scholarship to cover program costs. Teachers participating in the program travel to Hamilton from all over the country – this year's participants include teachers from California, Minnesota, New Jersey and Connecticut. Most program participants are in-service teachers representing K-12 schools, but pre-service and higher education teachers have also been accepted into this year's program.
In addition to instructing K-16 non-native Chinese teachers, Startalk also offers a summer youth program for 15 exceptionally motivated upstate New York students in 8th through 12th grades, which is taking place from July 8-13. The program takes a similar approach to its adult counterpart by balancing vocabulary and character writing instruction with hands on activities and lessons on Chinese culture, food and art. Students also have the opportunity to produce a Chinese play and engage in one-on-one distance learning instruction with native Chinese speakers. Participants in the youth program must have at least two years of Chinese language learning experience, as the Startalk youth program is conducted almost entirely in Chinese. Like the Startalk program for teachers, the youth program also provides full scholarships to all accepted students.

Summer youth program instructors are assisted by Hamilton Chinese majors who serve as counselors to the young students. Many of the Hamilton counselors have either studied abroad in China or have plans to study there during the coming academic year. Besides working with the youths, the Hamilton counselors also sit in on classes with Startalk teacher participants in order to learn practical teaching methods. Summer youth classes are housed in the Skenandoa dormitory, giving young students a taste of college living in one of Hamilton's most desirable residence halls.
Students or teachers who wish to participate in next year's programs should apply before April 1. The application process involves submitting Chinese course transcripts and letters of recommendation from Chinese instructors.