Hamilton's Mock Trial Team Starts Strong
---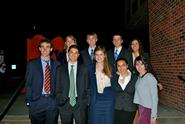 Hamilton's Mock Trial team is following up one of its best finishes in program history with another strong start to the season. The team began the season by finishing second at the Colgate Classic Tournament on Nov. 6-7. Hamilton faced teams from Cornell University, Villanova University, Canisius College and Colgate. Noah Bishop '11 won an outstanding attorney award while Lennie Specht '11 and Ashley Vanicek '13 both won outstanding witness awards.
Hamilton's team also includes Ian Morganelli '11, Elly Field '13, Libby Gutschenritter '13, Marta Johnson '13, Emily Tompsett '13, Pat Bedard '14, Jason Driscoll '14, and Anna Flores '14.
On Nov. 12-13, Hamilton competed in the 52 team Quaker Classic tournament hosted by the University of Pennsylvania and finished 8th. The team started off by splitting ballots with the University of Rochester and then beating teams from the University of Maryland, Case Western University and the University of Minnesota-Morris.
Noah Bishop, the team's captain, noted, "I was really pleased with the team's finish at the Quaker Classic. There were a lot of big schools and strong teams there and the team showed them that when we execute we can compete with just about anyone. This year's team is one of the strongest we've had."
Bishop added, "One of the most exciting parts about this season is that we have a lot of young talent so we should be competitive for years to come." One of those young team members, Jason Driscoll '14, points out that Mock Trial also helps develop useful life skills noting, "Mock Trial is the premier opportunity to develop rhetoric, composure, on-the-spot thinking, logic, and argumentation skills that are essential for the legal profession or even a career in acting."
The team is confident about its chances next semester. They will begin competition at Cornell's Big Red Invitational Classic on Jan. 29-30. Then the team has its regional competition at Buffalo State University on Feb. 26-27. Depending on the team's finish at the regional, it may qualify for the Opening Round Championship Series in Hamilton, Ohio, on March 18-20.
The Mock Trial team is supported by Student Assembly, Dave Eng, and Catherine Phelan and the Communication Department.