Hamilton Senior Fellow Nicole Dietsche Writes Original Graphic Novel
---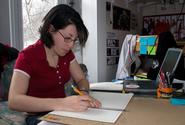 This semester, Nicole Dietsche '09, is taking one class. She works as the technical manager for Tech Crew, the co-lighting technician in Wellin Hall, and as the new media intern for Razor and Tie Entertainment. She is an editor of The Continental and a member of the Emerson Literary Society. The rest of her time is dedicated to the completion of her original graphic novel, tentatively titled Midnight Circus. Nicole is able to maintain this unique schedule due to her position as one of five Senior Fellows at Hamilton this year. As a Senior Fellow, she has the entire year to complete a project of her own design.
Nicole first came up with the idea for Midnight Circus last year. Applying for a Senior Fellowship at Hamilton is a rigorous process. Fellowships are awarded to seniors with ideas for yearlong projects that are either interdisciplinary or related to a specific area of scientific research. The object of a fellowship must be especially unique in the sense that it cannot be completed through any other program at Hamilton. Nicole first had to submit a proposal to a faculty board that decided whether her concept lent itself to a yearlong project, and whether it was valid to pursue. After being accepted, Nicole spent the summer writing the script for the novel. She has been working on drawing, scanning and photo-shopping the pages since she got back to school.
"I want to ultimately have it done by February 6, which is the New York Comic-Con," said Nicole. Comic-Con is the world's largest Comic Book convention. This year's Comic-Con in New York City drew an estimated 60,000 people. After presenting her work to publishers at Comic-Con, Nicole will have the rest of the year to focus on marketing her novel.
Midnight Circus mixes the creative writing and art concentrations that Nicole has focused on at Hamilton. In addition, it is heavily influenced by the symbology of Taro and Celtic mythology. The plot of the novel centers on Hugh Charles Kavanagh, a skeptic when it comes to all things supernatural. However, his perception is radically altered when he learns the truth about the deserted car park in Fortuna, California. Hugh's destiny is to become the ringleader of the "Midnight Circus" that inhabits the park. In addition to be impervious to aging, the members of the group are imbued with supernatural powers. Nicole describes the circus in her proposal as being "suspended between logic and illogic, free will and predetermined destiny." She added, "and they have to fight against, clearly, bad guys."
This fellowship has been under the supervision of two faculty advisors. Tina Hall, of the English department, has been in charge of advising on the Midnight Circus script. She has helped to "make sure things flowed, made sense, and weren't too obscure," explained Nicole.
Professor of Art Bruce Muirhead has been overseeing the artwork and illustrations. The primary role of faculty advisors is "keeping the fellows on track" said Nicole. In addition to helping them out along the way, faculty advisors sit on the board when Fellows defend their project at the end of the year. "I know I'll get everything done, but I'm nervous about the defense. Everyone tells me I don't have to worry, but I'm going to," admits Nicole. Graduation for the Senior Fellows is contingent upon the completion of their projects. A faculty board will review the projects based on the Fellows' defense of them in order to judge whether or not they have earned credit for them.
"It's definitely a great experience," says Nicole. "I don't think I would have had the time to do this project at all anywhere else. Once you graduate from college you either go to grad school or you get thrown into the real world and you have to get a job; do something to survive. You don't have the time to sit down. A lot of these projects would probably go unfinished if the school didn't provide the Senior Fellowship as a means to complete them."
Beyond achieving graduation credits, Midnight Circus might be the gateway into a future career. Nicole hopes that her independent production efforts might be further circulated under the auspice of a mainstream publisher. The novel also makes an invaluable contribution to her portfolio and will assist her in seeking jobs in the Comic book or publishing fields. Finally, Nicole plans to submit her project to the Dark Horse New Recruits contest. Dark Horse Comics is the publisher of such familiar names as 300 and Hellboy.
In her proposal, Nicole says, "a Hamilton professor once said in class that art is like a conversation with those who have come before. If this is true, then my project is a conference call." Her Fellowship project blends together different mediums of art into a single form, complete with original touches. She will continue to be involved with Circus all year, concluding with a public defense of Midnight Circus next spring.
-- by Nora Grenfell '12
Related Information
Senior Fellowship Program