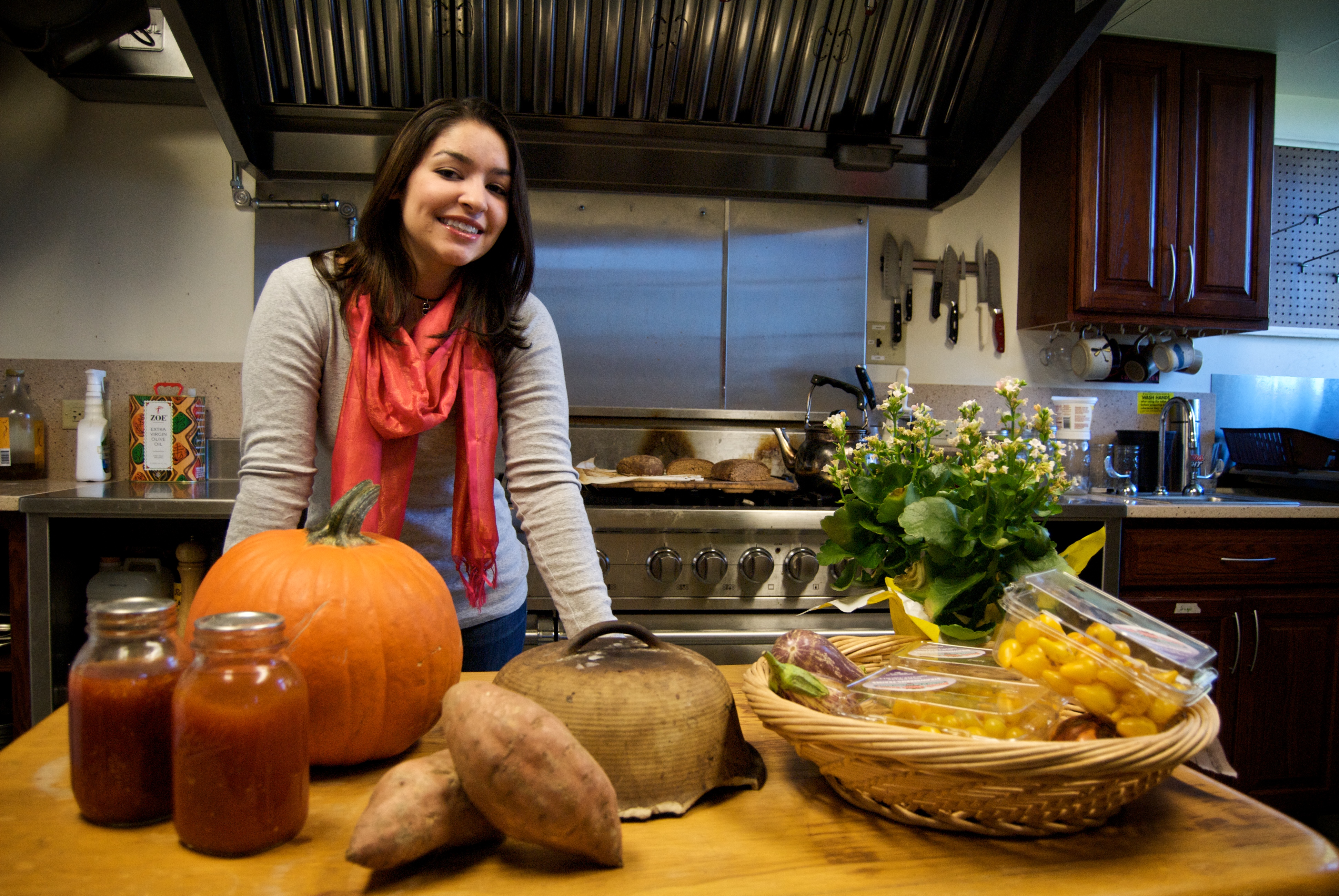 Caitlin Taborda, Hamilton's only Senior Fellow for the class of 2011, has begun her research on American food movements with regard to how different people make choices about the food they eat. Her project is titled "Local, Organic, and Sustainable Privilege: Understanding the Social Significance of Food Movements and the Socioeconomic Factors that Influence Participation."
Under the guidance of her principal advisor, Associate Professor of Sociology Stephen Ellingson and her secondary advisor, Professor of English and Creative Writing Naomi Guttman, Taborda will explore a broad range of topics related to food movements.
Carrying out a Senior Fellowship provides an experience unlike any other at Hamilton. Those seniors who are selected as Fellows undertake intensive, year-long projects that substitute for their coursework. Taborda, a sociology major, is now enrolled in College 235: Food for Thought, Women's Studies 314, and Biology 215: Genetics and Society. Though she receives no credit for these courses, they supplement her research and allow her a more rounded knowledge of her subject.
Furthermore, the independent project allows for flexibility because of its independent nature. In addition to an extensive thesis, Taborda will give a lecture to the campus community at the end of her fellowship.
Despite the heavy workload and complex research she faces, Taborda does not think of her project as daunting. Rather, she looks forward to the opportunity. "I love doing research," she relates, stating that her current work is highly rewarding. Her research will be done in three parts. First, Taborda will explore the history of different food movements. Currently this is the stage she is working on. According to Taborda, "This history includes when these movements began, who started these movements, and how they were executed, promoted and popularized." She is focusing on the 1990s onward, when food movements gained national certification and began to enter mainstream culture.
Next, Taborda will examine the image that has developed toward food movements. By examining different forms of media and communication, including advertising, websites, books and films, she will explore how people view food movements, organic, local and sustainable foods. This will give insight into how people choose their eating habits. Finally, Taborda will "focus on the social groups involved in each part of these food movements." This will involve interviews with local farmers and distributors of organic foods, consumers of these foods, and observations from national studies.
Taborda hopes that her research will shed light on socioeconomic status with regard to food-purchasing patterns. Because organic and sustainable foods tend to be more expensive, they are purchased most frequently by those of higher socioeconomic status. The different stages of her exploration will act as stepping stones toward revealing who is involved in the process of producing, selling, and buying sustainable food. Through her observations, Taborda will attempt to suggest ways in which to make these foods more accessible to everybody.
Hamilton's location and community help enrich Taborda's research. She plans to draw from on-campus experience with her courses and the Woollcott Cooperative as well as New York University and Cornell University lectures and resources. Because she hopes to pursue a career related to food culture, this fellowship represents the chance to become intimately involved with a field she is passionate about. Taborda's advisors play an influential role in the project. In weekly meetings with Professor Ellingson, Taborda reviews her progress and refines her research. Meanwhile, Professor Guttman has assisted with finding primary sources using her connections to nearby resources. Their influence helps guide the project toward a polished focus.
Though she does not identify with any particular food movement, Taborda's research has affected her on a personal level. Specifically, she has become more aware of food labeling and the different ingredients in the food she buys. Becoming a Senior Fellow allows students to learn independently and extensively about the subject of their choice. Though Taborda's project is certainly challenging and multifaceted, she draws from multiple fields of study and a flexible way of thinking to make her goal possible. She says of this opportunity, "it [is] an ideal culmination of the Hamilton liberal arts education."