Hamilton Group Attends Experiential Education Conference
---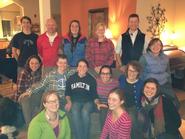 A group of Hamilton students, alumni and staff travelled to Madison, Wis., for the 40th annual international conference of the Association for Experiential Education (AEE), held Nov. 1-4. According to its website, the AEE is a nonprofit, professional membership association dedicated to experiential education and the students, educators and practitioners who utilize its philosophy.

The group's trip was organized by Andrew and Sarah Jillings, director and assistant director of Outdoor Leadership, who invited a handful of current students and recent alumni to attend.

Other attendees included Jane Barnard '13, Anna Bastidas '13, Sarah Gamble''13, Emi Birch '14, Clair Stover '14, Mary Phillips '11, Meg Bolger '11 and Amy Dow '12; Janine Oliver, Hamilton assistant director of career development ; Ben Oliver '02, assistant director of outdoor education at Colgate University; and Courtney Savage, team advisor at Colgate's Center for Outreach, Volunteerism and Education.

At the conference each member of the group attended workshops and meetings that best fit their interests, networked with colleagues, learned about options for future employers and graduate schools, and explored the city of Madison. Meg Bolger presented her Safe Zone training as one of the conference workshops. The conference also featured three keynote speakers: Jasper Hunt, a professor of experiential education in the College of Education at Minnesota State University; Mankato, Lily Yeh, the founder of The Village of Arts and Humanities in Philadelphia and of Barefoot Artist Inc.; and Lynda Barry, cartoonist, author, artist and teacher.

Both Ben Oliver and Sarah Jillings have served for several years on the Northeast Regional Advisory Council for the AEE and look forward to continuing to expose students to the resources AEE has to offer in the future.

The AEE seeks to connect educators in practical ways so that they have access to the growing body of knowledge that fuels their growth and development; publish and provide access to relevant research, publications and resources; raise the quality and performance of experiential programs through its accreditation program; and increase recognition of experiential education worldwide.