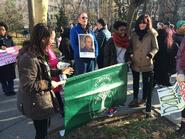 Two busloads full of Hamilton College students and a half dozen faculty members arrived in New York City on Saturday, Dec. 13, to join a march against police shootings, primarily of black men. Part of a national movement, people gathered in cities including Boston, Los Angeles and Washington, D.C., to march in reaction to recent events.
According to the crowd estimate provided by The New York Times, over 25,000 joined the NYC Millions March which began in Washington Square and traveled up to midtown, before heading downtown again and ending at a rally in front of police headquarters in lower Manhattan. Participants were grateful to the departments and offices that helped fund this trip.
Many of the 80 students who traveled to New York had also been part of a recent campus demonstration. More than 200 student participated in that demonstration on Dec. 4 following a grand jury decision not to indict a New York City police officer for the death of an unarmed African-American man on Staten Island. Energized by the campus demonstration, many students wanted to respond to the national call to demonstrate by attending Saturday's march. They hoped to witness and experience one of the ways in which to initiate change in institutional systems. The march rekindled hope within the students and faculty members who had been disillusioned with what they perceived as a complacent student body.
For many of the students, these events served as a crash course in the type of grassroots activism that sparked the civil rights movement of the 1960s, which also began as spontaneous, decentralized protests. This style of protest is an important part of the democratic process, as important as a free press and free elections. The crowds' chants of "Tell me what democracy looks like? / This is what democracy looks like!" confirmed that.
The organizers of the Hamilton contingent came from a variety of clubs and organizations who took time out from final exam preparations to participate in this national movement. The students committed themselves to non-violence, and no arrests or disturbances were made in New York City until late on Saturday night, when all of the Hamilton students and most of the tens of thousands who had participated earlier had headed for home.
Some Hamilton students reported that they felt as if they had embarked on a journey similar to the Freedom Rides of the 1960s. On the buses and on the march, the students hashed out political ideas in what amounted to a vibrant, if informal, extension of their college education. They felt that the political engagement served as a complement to their academic learning environment. Students realized that despite living inside what is sometimes called the "Hamilton bubble," they can help create what they envision as a more just and democratic society. The experiences gained in the protests this December, on campus and in the streets of New York City, seemed to have a significant effect on many of the Hamilton participants.
One of the students who traveled to the protest, Brenda Narvaez '17, enjoyed being surrounded by activists committed to ending social and economic injustices. She commented, "It's important for my peers to be exposed to this type of environment. I am just wondering what are the next steps. What now? How can we continue to be involved in this national movement, do all our coursework, and change the atmosphere of Hamilton?"
In New York City the students marched behind two banners: a large blue banner with the Hamilton logo and a green banner bearing the Kirkland College logo. A Kirkland alumna from the class of 1974, who was marching on her own, was surprised and delighted to encounter the students carrying her alma mater's banner and joined them for a time in the crowd.
Saturday was a day of protest, but also a day of optimism. The fact that millions of Americans are standing up against what many perceive as racial injustice seems to point to the United States' capacity to change. The protesting students wondered, "Where will Hamiltonians stand? Will these activities lead to students evaluating their roles as members of the community?" Many of the participants believe that Hamilton has the capacity to change, but also that students, especially those engaged in promoting social and economic justice, need to commit to pursuing that change if it is to happen.
Jack Suria Linares '15 is a graduate of Los Angeles High School of the Arts and was the one of the many organizers of this event.