Hamilton Students Find Religion in a Jitney
---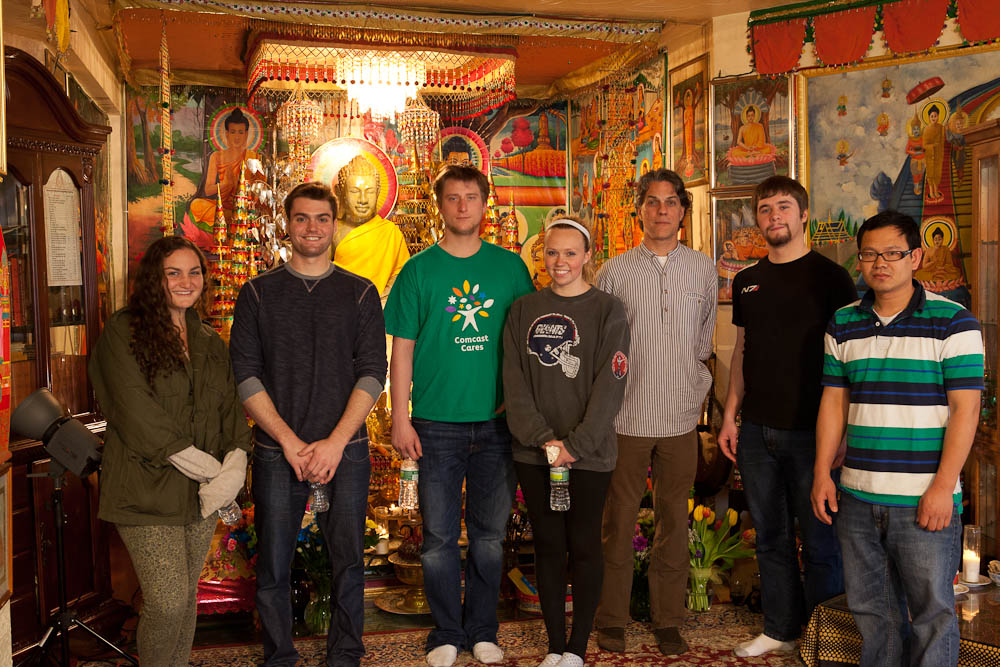 When one thinks of religion, it is easy to imagine and conceptualize rituals, texts and principles. However, one might argue that the experience of religion is just as much about tastes, sights, sounds and textures as it is about following guidelines and observing tradition. Visiting Associate Professor of Religious Studies S. Brent Plate subscribes to the philosophy that religion is best understood through direct interaction rather than distanced study. He is helping students gain firsthand interactions with religion in Oneida County through his course "Religion in the U.S."
The class is structured around field trips more than lectures; nearly every week the class visits a new location in person and tours the site with a member of the staff there. Sites have included the Oneida Mansion House, the Shako:wi Cultural Center, and the Bosnian Islamic Association's Mosque. The trips occur in roughly chronological order based on when the religion first appeared in the area.
Pre-1965, the course considers Native American sites, various Christian sites, and utopian societies such as the Oneida Community of the late 1800s. There was a massive shift in the religious landscape of the area with the Immigration and Nationality Act of 1965, which started a large movement of new nationalities and religious factions into the county. Among the new groups to settle in Oneida were populations from South Asia, Africa and Russia. These changes in demographics also had a dramatic impact on religious life. More recently, the substantial refugee community in Utica has helped provide new religious sites for the Bosnian and Cambodian populations.
Plate was first inspired to teach the course when he began investigating Oneida County's religious landscape and discovered a wealth of diversity that he had not expected. Upon first moving to the area five years ago, he was not aware of the rich religious history right in Hamilton's backyard, and he teaches this course to pass his experiences in the county on to students.
Indeed, most Hamilton students do not get off campus searching for fresh perspectives on religious life, and so they are often taken aback by the vast historical network of religion here. Allison Goodman '15, a student in the class, explains, "I knew we lived in a bubble […] in a good way" on Hamilton's campus and she was pleasantly surprised by the abundance of temples, mosques and churches that there are to explore, as well as the welcoming attitudes of those who work or worship there.
On any given trip, the tour guides have a direct affiliation with the site, and so they're often passionate about their place of worship. According to Plate, speaking with these individuals reveals what is important to them, such as certain foods and sounds. For example, Goodman fondly recalls an experience of the class being invited back to a site for a traditional meal later that week; she was amazed by the genuine kindness and inclusivity that students received from their tour guide.
Lewis Leone '15, another student in the class, echoes Goodman's sentiment. He explains, "So far, my favorite site visit has been the Cambodian Buddhist Temple. I was surprised and delighted to find how casual and welcoming the space was."
Another aspect of the course that makes it unique is the focus on religion as a locally-experienced phenomenon. Plate explains that he hopes that, through the field trips, students learn to "get into their bodies" and use all their senses to study a religion from an intimate, firsthand perspective. After all, the impressions that students get of a certain place, including its sights, smells and sounds, are incredibly long-lasting, even if memories of the details of a particular religion fade with time.
This approach clearly works for students, as Goodman was previously unaware of the effect of physical location on religious experience. For example, for many religions in the area, the Erie Canal serves as a site of high significance, even though this geographical feature is obviously one that is unique to this area. She goes on to explain, "Language is really limiting when talking about religion," and when she is part of a class visit to a site, it is easy to "tap into that [community's] feeling" or energy.
Leone adds that the course's mix of "philosophical, psychological, historical and sociological approaches" further enriches the experience because it adds multiple dimensions through which to approach each religion and see each site. He argues that Plate's blend of disciplines helped him attain a greater understanding of religious diversity in this country.
The last time this course was offered was two years ago, and Plate remarks that, having spoken to some of the same people then as now, it is fascinating to hear how their perspectives change and how their stories are amended with time. Plate explains, "Utica is at a unique place in history where everyone is pretty much getting along [on a religious front] without issue."
However, because the area's demographics are constantly shifting, and religious groups often compete for limited resources, it is unclear if Utica will continue to thrive as a diverse, peaceful community. Plate looks forward to observing these changes over time and chronicling them through his courses.
Ultimately, Plate hopes to combine the class's findings into a multimedia project which will follow the religious landscape of the area through time. This project would be publicly accessible, but is still in its early stages. For now, Plate's students will exclusively reap all the benefits of this course, which opens the door to a whole universe of diversity and culture that is, for the most part, unexplored.
Perhaps Leone sums it up best: "Being able to stand in a place of worship, experiencing the sights, smells, sounds and other sensory aspects of the site is a valuable and enlightening experience that you can't get out of a textbook or lecture." Thankfully, the entirety of this rich assortment or experiences is just a Jitney ride away.