Hamilton Students Join Mayor Julian for U.S. Climate Agreement Signing
---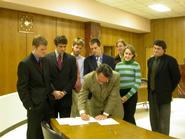 A few days after the celebration of Earth Day and on the eve of former Vice President Gore's visit to campus, seven Hamilton College students and a Hamilton professor joined Utica Mayor Timothy Julian at a signing of the
U.S. Mayors' Climate Protection Agreement
(PDF). The event took place on Thursday, April 26, at 11 a.m. at the Utica City Hall. The agreement was sent by students and faculty to Mayor Julian along with their commitment to assist in addressing environmental issues.
Crafted in response to the U.S. government's unwillingness to ratify the Kyoto Protocol, the agreement was originally drafted by nine mayors from major cities across the country in 2005. It has now been signed by 464 mayors. Nineteen New York mayors have signed the agreement, from mid-size to large cities, including New York City, Rochester, Syracuse, Ithaca, Buffalo, Niagara Falls and Albany.
The Kyoto Protocol is a greenhouse gas emission reduction treaty drafted by the United Nations Framework Convention on Climate Change in Kyoto, Japan, in 1997. It was enacted in February 2005 and has been ratified by 169 countries.
The Mayors' Climate Protection Agreement commits cities to reducing emissions through energy efficiency incentives, improved public transportation and expanded green spaces. The Hamilton students and faculty hope to assist the city in meeting these goals.
Hamilton students present for the signing were Lucas Thornblade, Peter Woodruff, Chris Sullivan, Theophilos Collins, Annika Savio, Laura Hartz and Alec Denton. Visiting Assistant Professor of Government Peter Cannavo accompanied the students.
Many of the Hamilton students are either members of the Hamilton Environmental Action Group (HEAG) or the Environmental Studies Program. HEAG conducts campus food salvage and recycling programs. The college was recently awarded
Silver LEED (Leadership in Energy Certification)
Certification by the U.S. Green Building Council for one of its buildings and continues to focus on expanding energy conservation programs throughout campus buildings.