Hamilton Students Meet with Investment Banking Alumnus
---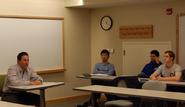 Jeffrey Schackner '89, managing director and co-head of Global Consumer Products Banking at Citigroup, visited and conducted the Economics Department's International Finance class on Nov. 30.

Giving students a rare inside view of Wall Street, Schackner lectured on his previous experiences in the business, including mergers and acquisitions work such as Inbev's $61 billion takeover of former brewing giant Anheuser Busch. Schackner also discussed the importance of information in the business, and his empowering role as a financial advisor to the world's most well-known consumer product companies. Afterward, he took questions from students and commented on pressing issues such as global accounting standards, the current financial crisis, and the impending problems of Dubai.

After majoring in economics at Hamilton, Schackner received his MBA with highest honors from Columbia Business School in 1996. He joined Citi in 2000, following Citi's acquisition of Schroders' Investment Bank. From 2000 until August 2007, Schackner was a member of the firm's Mergers & Acquisitions group where he advised on numerous cross-border transactions in North American, Latin America, Europe, the Middle East and Asia.

Schackner also resided in Seoul, Korea, for a period of time while at Schroders', advising local companies on restructuring matters. Currently, he has been involved in Kraft Food's $19 billion potential takeover of Cadbury plc. Schackner has also supported The Whitney Museum of American Art, where he sits on the Drawings Acquisition Committee. He and his wife, Allison Wiener, reside in Manhattan with their two children.