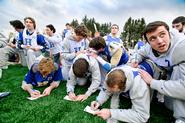 Hamilton Students STOP to Say "Thank You"
Posted February 24, 2012
On athletic practice fields and team buses and in the Kirner-Johnson atrium, large groups of students joined in writing thank you postcards to donors throughout S.T.O.P. Day. The celebration of "Starting Today Others Pay" Day began with a presentation by Vice President of Administration and Finance Karen Leach, ended with remarks by alumnus John Werner '92 and resulted in more than 2,000 thank you cards penned by students to donors.