Students Team With Kernan School in America Reads Program
---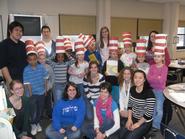 Reading is an essential skill that most experts agree is developed at a very early stage in a child's education. Yet not all students acquire this vital skill at the same rate, and many need extra help to become fluid readers. To aid some of these students, Hamilton has recently implemented a new community outreach program at Kernan Elementary School in Utica to assist second-graders with improving their reading abilities
The program is called America Reads and was created during the Clinton administration. According to the America Reads website, the program seeks to ensure "that every American child can read well and independently by the end of 3rd grade." Although it was originally portrayed as a four-year challenge, the program has been continued indefinitely. Today, chapters can be found on many college and high school campuses.
Amy James and Jeff McArn wrote a grant to fund the program at Hamilton as part of the Community Outreach and Opportunity Project (COOP). When funding for the program came through, they hired Celeste Fuller to head Hamilton's chapter of America Reads. Fuller worked with a chapter of America Reads at UCLA and was enthusiastic about bringing the program to Hamilton.
"Kernan Elementary is a high-need school where 96 percent of the students are receiving free or reduced lunch," Fuller said. "Many studies show that there is a direct correlation between illiteracy and poverty. I am happy that this program is working to both combat illiteracy and empower students through education."
Student tutors volunteer to work one-on-one with second-graders at Kernan twice a week. The 19 tutors are drawn from all class years and diverse backgrounds, but are linked by their love of reading. Some tutors like Jimmy Nguyen '14 decided to participate in the program because of their own experiences. "I decided to become a tutor because I came from a similar background," he said. "I got help with my education and wanted to give back to the community."
Unlike many other programs, the student and tutor are paired for the duration of the semester, meaning that a mature working relationship can develop. Sessions last for two hours each, during which time the tutors work with the students on their reading and reading comprehension skills. The tutors use a three-book system: they begin every session by re-reading a book they read last time, then read a new story and finally preview a selection for the next session. Emphasis is placed on a cooperative approach—both students and tutors take turns reading aloud, and students are encouraged to pick out books they want to read.
"Working one-on-one like this, we're building a relationship with our students. They see we're sticking with it, and they think that hanging out with older kids is cool." Katherine Costa '12 said.
Fuller and the tutors make sure that the experience is also enjoyable for the second-graders. They regularly plan special events for the students, including a recent celebration of Doctor Seuss's birthday. Students worked on constructing Cat-in-the-Hat hats and other Seuss-themed activities while munching on cookies that Fuller baked. As a culminating event to the day's activities, tutors and students alike listened to a reading of one of Dr. Seuss's classic books.
Although the program is only about halfway finished, it has thus far been a success. Both tutors and students enjoy the one-on-one focus of the tutoring, which has led to tangible improvements in the student's reading skills.
"My student was intimidated by large words," Sarah Mehrotra '14 said, "but now he knows how to split them up. When another student was struggling with a word he said 'let me show you how to do it.'"

John Boudreau '14 is a graduate of Burnt Hills-Ballston Lake High School