Hamilton Students Tutor Utica Children in Music and Laughter
---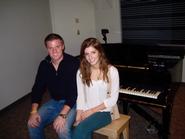 Passing by Utica's Salvation Army on a Thursday evening, one might assume a carnival is taking place behind its doors. Crashing cymbals, the occasional crack of a snare drum and muddled piano melodies can be heard from the Salvation Army's chapel, their sounds pouring out into the street. Nearly overpowering this raucous symphony, the playful laughter and boisterous voices of the performance's participants bring life to the musical melee taking place within.

It's 5 p.m. on Thursday evening, and Hamilton's HAVOC Music Tutors have arrived. Every week, a group of student volunteers travel to Utica's Salvation Army in an attempt to impart even the slightest bit of their musical knowledge to the children in attendance. What begins as a music lesson, however, always seems to end in a lively mix of both music and hilarity. It is not uncommon to see Hamilton's volunteers doubled over in laughter, reverting to their childhoods with the help of their ever-eager pupils. Though actual harmonies and melodies are few and far between, the universal smiles confirm that everyone is immensely enjoying themselves, Hamilton volunteers and their pupils alike.

HAVOC began its Music Tutoring site at Utica's Salvation Army several years ago in an attempt to reach out and broaden Hamilton's positive influence in the area. Sara Kayeum '12 currently directs the site. Interested in continuing to volunteer, Kayeum inherited the site in the fall of her freshman year. "Volunteering gives you a break, and an opportunity to reach out to the community," she explains. "It keeps you involved with a passion." Kayeum began piano at the age of seven, with an instructor "straight from Russia." Music tutoring affords Kayeum the opportunities to both continue playing piano and volunteer simultaneously in the nearby community.

What began as a broad effort to teach several instruments and skills eventually narrowed itself down to piano and basic musical literacy, with the occasional violin or saxophone making an appearance. The Salvation Army's staff is "very willing to help out," says Kayeum, but unfortunately does not have the resources for a wider curriculum. Despite the setback, the children eagerly devour the volunteers' knowledge, learning how to both read and write musical notes, and play simple songs. They're currently working on "Mary Had a Little Lamb", and an assortment of Christmas songs to be played at a recital toward the end of the semester.

"The recital gives the kids something to look forward to, and gets their families involved," says Kayeum. An ultimate goal also helps provide the children with a degree of focus, though it inevitably dissipates by the end of the session. Ever patient and willing to accomplish their task, Kayeum and her volunteers have their pupils playing a new tune at the end of nearly every session; every week the children leave with a new grain of musical knowledge. Most importantly, both Hamilton's volunteers and the children they tutor enjoy themselves immensely.