Hamilton to Compete in Campus Conservation Nationals
---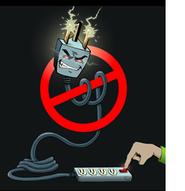 Starting next week, Hamilton will compete regionally in the Campus Conservation Nationals (CCN) 2012, a competition in electricity and water use reduction among colleges and universities in the United States and Canada. The competition was created by the Students Program at the Center for Green Schools at the U.S. Green Building Council and in partnership with Lucid, Alliance to Save Energy and the National Wildlife Federation.
CCN is designed to engage, educate, motivate, and empower students to conserve resources in their residences to foster a culture of conservation on campuses across the country. Activities that take place in residence halls account for a significant portion of total electricity and water use on college and university campuses, and studies have shown that resource reduction competitions are a means of engaging students and encouraging behavioral changes.
The competition will begin Monday, Feb. 13, and run through mid-March, and will involve more than 100 colleges and universities. CCN will log savings from all institutions using Lucid's Building Dashboard, and has set a national challenge goal of 1 gigawatt-hour in savings.
In 2010, 40 participating schools in the U.S. and Canada reduced consumption by 508,000 kilowatt-hours, equivalent to $50,200 and 816,000 pounds of carbon dioxide.
Hamilton's participation in CCN is being spearheaded by the Hamilton Environmental Action Group (HEAG), with support from Director of Environmental Protection, Safety, and Sustainability Brian Hansen. In addition to a dorm-wide competition, Hamilton will be competing to reduce dorm electricity use against Hobart and William Smith Colleges, St. Lawrence University, Colgate University and Skidmore College in the New York Negawatt Challenge.
According to Hansen, one of the principal benefits that CNN 2012 will bring to the campus is financial. Wasting energy resources in careless, habitual consumption habits can lead to a loss of another important college resource—money. "Financially, every penny saved from conservation efforts represents money that can be put to better use in support of Hamilton's core mission," Hansen explained.
Hansen also thinks that students' monitoring of their own living spaces' consumption can supplement more theoretical classroom discussions on conservation. "'Sustainability' is unlike some chemistry, economics or computer science course, with narrow practical applicability to our daily lives," he said. "Living, learning and working sustainably is about the choices we make, as well as our collective actions and behaviors (especially when no one else is looking). And competitions that inspire our community to think about sustainability in the broad view leads to informed decision-making."
Hamilton's progress in the competition can be followed at http://buildingdashboard.net/hamilton/.