Hamilton Hosts Summit on Syracuse Symphony's Future
---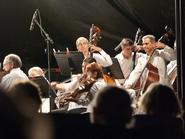 In seeking to play a constructive role in the ongoing bankruptcy of the Syracuse Symphony Orchestra and the future of symphonic music in Central New York, Hamilton College is hosting "Summit on the Symphony" on Sunday, October 16. 'The event will bring together leaders from institutions of higher education and government and stakeholder arts organizations in the region, many of whom have been engaged in working on the future of a professional orchestra here.
The purpose of the summit is to broaden the conversation about the situation in the wake of the SSO's Chapter 7 bankruptcy filing, to discuss what kind of orchestra the region needs and to begin to develop ways to work together to ensure a professional orchestra of the artistic excellence that the region needs and deserves, that the region has had for 50 years, and that serves all of Central New York. Participants expect the summit to lead to a collaborative process, and they intend to issue a statement afterward regarding those plans within a week of this meeting.
The following institutions have confirmed their participation in the summit: Cayuga Community College, Cornell University, Hobart William Smith College, Ithaca College School of Music, Le Moyne College, Onondaga Community College, SUNY Oswego, and Syracuse University; as well as Syracuse Opera, the Society for New Music, Syracuse Friends of Chamber Music, the Cultural Resources Council, the Arts and Culture Leadership Alliance of Central New York, and the Onondaga County Executive Office. Representatives of the musicians of the former SSO, who since the bankruptcy filing have been presenting concerts as Symphony Syracuse, will also participate in the summit.
"We hope this meeting will be a catalyst to our working together to help preserve now and in the future what is essential for the cultural vitality of the region." said Heather Buchman, director of Hamilton's orchestra and organizer of this summit.
Ten former SSO musicians teach at Hamilton and Buchman has been guest conductor of two concerts of Symphony Syracuse, a music group founded by former SSO musicians.