Hamilton Welcomes Families to the Hill
---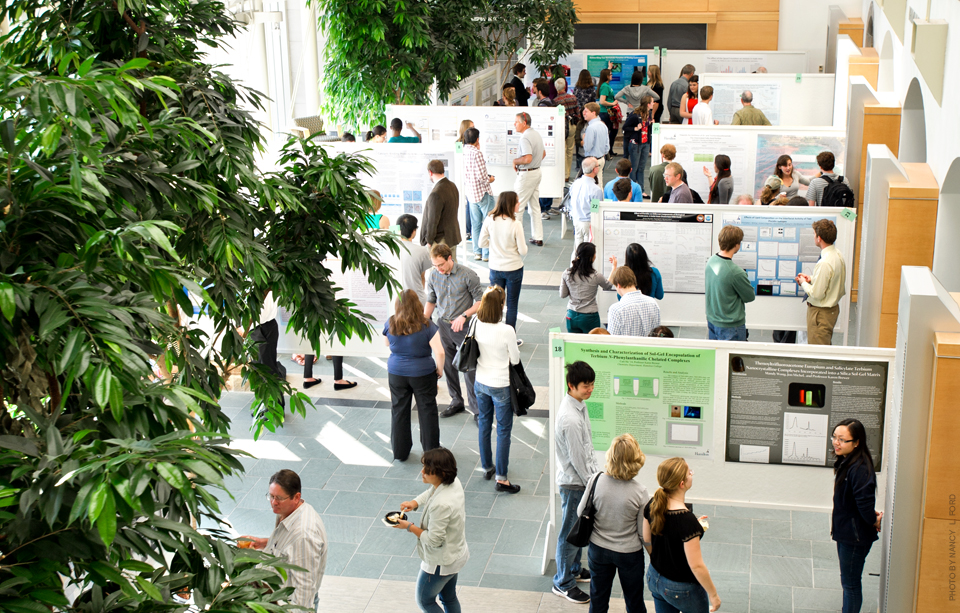 More than 1800 family members and friends are expected on the Hill for Hamilton's Family Weekend, taking place on campus from Oct. 31- Nov. 3. A wide variety of events aimed at educating and entertaining are planned for the weekend. [Full Schedule]
On Friday, Nov. 1, guests can participate in a wide variety of classes to experience what it's like to be a student at Hamilton today.
At 3 p.m. in the Chapel, join College Chaplain Jeff McArn, John Stewart Kennedy Professor of Philosophy Rick Werner and Carole Bellini-Sharp, the Margaret Bundy Scott Professor of Theatre, for a panel discussion, "The Struggle for Good in a World of Self-Interest." Preview some scenes with the cast and songs from the upcoming Theatre Department production of Bertolt Brecht's The Good Person of Szechwan. Then, at 4:30 p.m., family and friends are welcome to stop by Minor Theater for a rehearsal of the production.
Always popular during Family Weekend are the poster sessions where students present their summer research and discuss their findings. In 2013 Arthur Levitt Public Affairs Center funded 28 students who conducted research on a number of topics, including building a portable solar device, studying the effects of lead contamination in Utica, and documenting changes to religious spaces in the local community. Their work will be on display on Friday, Nov. 1, from 3:30-5 p.m., in KJ Commons, 2nd floor.
At the same time on the other side of campus in the Taylor Science Center Atrium, students who conducted collaborative research in the sciences with faculty last summer will present posters and explain their work. Come investigate science research at Hamilton and explore research topics in archaeology, biology, chemistry, computer science, geosciences, physics and psychology.
A full slate of performing arts events are scheduled for Friday and Saturday, Nov. 1 and 2, in Wellin Hall. The Hamilton College Choir and College Hill Singers share the stage with the Department of Dance and Movement Studies with pieces for full choir and chamber singers and choreography by professors Bruce Walczyk and Elaine Heekin for student dancers.
The Ruth and Elmer Wellin Museum of Art will be open on Friday and Saturday, from 9 a.m. to 5 p.m., for the exhibition Frohawk Two Feathers: You Can Fall.
On Saturday, Nov. 2, at 10 a.m., join President Joan Hinde Stewart as she delivers the State of the College Address in Wellin Hall.
The Hamilton College Democrats and Republicans will debate Obamacare in the Fillius Events Barn at 12:30 p.m.
At 2 p.m. in Taylor Science Center, classroom G041, sit in on a lecture, "The 1812 Garden to the Shaker Herbal Medicine Garden: A Transition." As part of the class activity of Food for Thought course in spring of 2013, the former 1812 Garden saw the beginning of a transition into a Shaker Herbal Medicine Garden that would represent in a living way, some of the materials found in Burke Library's Special Collections. Moreover, this garden would continue its role as providing a "lab" for the Food for Thought course. We will attempt to represent many of the herbs grown, harvested and processed by the Shakers who were the "Big Pharma" of the 19th century. With Frank Sciacca, associate professor of Russian and David Gapp, the Silas D. Childs Professor of Biology.
At 3 p.m. in the Fillius Events Barn, "Readings of Short Stories and Poetry" will feature readings by students Felicia Tsao '16, Peter Bresnan '15, Sarah Sgro '14, Kina Viola'14 and Lisa Labate '14, who have won college prizes for their creative writing.
Families can look back at this year's first-year orientation programs, Outreach Adventure and Adirondack Adventure, through slide shows in the Taylor Science Center beginning at 4 p.m.
Saturday evening offers several entertainment options. The Hamilton College Orchestra, led by guest conductor Ubaldo Valli, and the Jazz Ensemble, under the direction of "Doc" Woods, will perform back-to-back beginning at 7:30 p.m. in Wellin Hall.
Enjoy a performance of Upright Citizens Brigade Touring Company at 8 p.m. in the Fillius Events Barn. The Company is dedicated to fostering both an appreciation and education of the arts through affordable and high quality comedic performances and classes. Its Theatre Training Center teaches long-form improv, sketch writing, and various other comedy skills.
On Sunday before heading for home, families are invited to enjoy brunch on the Village Green with the Clinton merchants, from 10 a.m. to noon.