Hamilton Well-Represented at SAA Meeting
---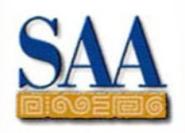 Hamilton College archaeologists were well-represented on the program of the 77th Annual Meeting of the Society for American Archaeology held April 18-22 in Memphis, Tenn. Several students, faculty members and alumni presented research with other Hamilton alumni in attendance.
Kathryn Bennett '12 and Catherine Prescott '12 presented posters relating to their senior thesis research. Bennett and her co-author, Professor of Anthropology Tom Jones, presented "Is Western Stemmed Biface Technology Derived from Clovis" in a general session on stone tool analysis. In a session devoted to sourcing studies, Prescott presented "Prehistoric Mobility and Territory in the Upper Columbia River Drainage" with her co-authors, Assistant Professor of Anthropology Nathan Goodale, Academic Office Assistant Alissa Nauman and Associate Professor of Geosciences David Bailey.
Goodale and Nauman presented "Radiocarbon Dating the Slocan Narrows Pithouse Village" in a poster session on the archaeology of northwestern North America. In the same session, Nauman, Goodale and Lisa Smith, a Ph.D student at the University of Montana, presented "Gender and Household Activity in the Slocan Narrows Pithouse Village, Slocan, British Columbia."

Nauman also participated in "Pilgrims Progress: Settlement Variety in Connemarra's Early Medieval Seascape" with senior author Ryan Lash and several of his Notre Dame colleagues.
Reporting research results from their studies in western Ireland, Goodale and Bailey joined senior author Maddy Gunter '11 and Ian Kuijt, a professor of anthropology at the University of Notre Dame, in a poster presentation titled "Ritual Economies and Medieval Irish Gravestones."
Goodale was co-author of a paper titled "The Village Ecodynamics Project II Lithic Research," presented during a symposium on "Socionatural Systems in the Northern U.S. Southwest."
In addition, Jones and Professor of Archaeology Charlotte Beck delivered "Dunnell's Selectionist Vision: Why did it not have more of an Impact on the Discipline" in a retrospective session on the research program of Beck's thesis advisor, Robert C. Dunnell.

Among the graduate students presenting papers were Lisa Fontes '09, Rachel Horowitz '09, and Nick Freeland '09, and Maddie Gunter '11, who will begin graduate work in the fall. Khori Newlander '04, who recently completed his doctoral degree, and Amanda Taylor '02, who will shortly defend her dissertation, also presented papers at the conference.
Hamilton alumni in attendance at the meeting included Eric Jones '00, currently teaching at Wake Forest University; Cynthia Fadem '01, a member of the geology faculty at Earlham College; Brad Beacham '00, now working in cultural resource management; and Laura DeFrank '10, who recently completed her master's degree.