HamiltonExplore Experience with Lauren Howe '13
---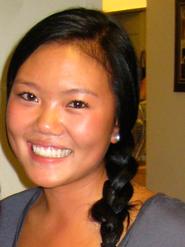 My name is Lauren Howe and I am a junior concentrating in Environmental Studies with a focus in Women's Studies. I am really interested in food advocacy and access, environmental justice, and grassroots organizing. I have always had some interest in nonprofit organizations, and when combined with past internship experiences, I knew HamiltonExplore would be an excellent way to investigate even more opportunities in the field. As soon as I saw information for this Career Center pilot program, I knew I had to apply. The application process was straightforward and the Career Center was very helpful.

I ended up spending the day with Jackie Kook '05, the Program Co-Director of Radio Rootz at People's Production House. PPH is a nonprofit media justice organization that operates out of New York City, which is where I spent the day, as well as Washington D.C. The information that Jackie shared with me about PPH, Radio Rootz (a youth driven journalism program), and nonprofit work in general, as well as her and her friends' Fulbright and fellowship experiences was invaluable, especially because I aspire to travel on a Fulbright, Watson, or Bristol Fellowship after graduation. I learned so much in one day, from a basic tutorial given by her colleague on Audacity (a recording program) to tips for shooting digital photos. Perusing the PPH literature and listening to radio pieces from Radio Rootz youth were also extremely informative. I enjoyed meeting Jackie's colleagues and experiencing a typical busy Monday at PPH. My favorite part of the day was, by far, collecting raw audio clips in the field by interviewing vendors on the NYC streets. It exposed me to new types of technology and provided me with hands on journalism experience.

This visit has further confirmed my desire to go into nonprofit and/or social justice related work after undergraduate or graduate school. There is just so much to be learned, explored, and challenged in these fields and my experience at PPH helped solidify my initial feelings. HamiltonExplore is a unique and informative opportunity that has provided me with crucial career related experience for my future. Since Hamilton offers its students an abundant amount of resources and networking connections, I am a firm believer that students should absolutely take advantage of them.