Hamilton's 197th Commencement is Sunday, May 24
---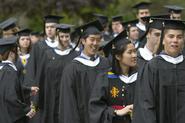 Cathie Black, president of Hearst Magazines, will deliver the Commencement address at Hamilton College on Sunday, May 24, at 10:30 a.m. in the Margaret Bundy Scott Field House. Hamilton will award degrees to 472 seniors.

Black will be awarded an honorary degree at the College's 197th Commencement ceremony, along with John Adams, co-founder of the Natural Resources Defense Council; Colgate University President Rebecca Chopp; and Stuart Scott, a 1961 graduate of Hamilton and former chairman of its Board of Trustees. Chopp will offer the Baccalaureate sermon, which will be given on Saturday, May 23, at 3 p.m. in the Scott Field House.

Cathie Black
Cathie Black, dubbed "one of the leading figures in American publishing over the past two decades" by the Financial Times — heads Hearst Magazines, a division of Hearst Corporation and one of the world's largest publishers of monthly magazines. She manages the financial performance and development of some of the industry's best-known titles: Cosmopolitan, Esquire, Good Housekeeping, Harper's BAZAAR, Marie Claire, The Oprah Magazine, Popular Mechanics, Redbook, and Town & Country. She also oversees nearly 200 international editions of those magazines in more than 100 countries.

Her best-selling 2007 book, BASIC BLACK: The Essential Guide for Getting Ahead at Work (and in Life), is a practical and motivational guide on how women can seize opportunity in the workplace. Having begun her career in advertising sales with several magazines, including Holiday and Ms., she made publishing history in 1979 when she became the first woman publisher of a weekly consumer magazine, New York.

Black is widely credited for the success of USA Today, where she was president, then publisher, as well as a board member and executive vice president/marketing of Gannett, its parent company. In 1991 she became president and CEO of the Newspaper Association of America, the industry's largest trade group, where she served for five years before joining Hearst.

She serves as a member of the boards of IBM and the Coca-Cola Company, and held a two-year term as chairman of the Magazine Publishers of America. Black is also a board member of the Advertising Council, a trustee of The University of Notre Dame and a member of the Council on Foreign Relations.

Black is a graduate of Trinity College, Washington, D.C., and holds nine honorary degrees.

John H. Adams
John Adams is the founding director and former president of the Natural Resources Defense Council. He co-founded the NRDC in 1970, a non-profit organization of public interest lawyers focused on the formation and enforcement of emerging environmental laws. Since then, NRDC has become a national and international force, utilizing science, law, and the strength of 1.2 million members and online activists nationwide to protect people, the places they live, and the natural resources we all depend on.

Adams has a bachelor's degree in history from Michigan State, an L.L.B. from Duke University Law School and an honorary doctor of laws from Duke University.

Prior to NRDC, he worked as the assistant U.S. attorney for the Southern District of New York. Adams serves as chairman of the board of the Open Space Institute. He is also on the boards of the League of Conservation Voters, Center for American Progress, Woods Hole Research Center and Duke University's Nicholas School of the Environment and Earth Sciences. Adams has also served on the Pew Oceans Commission, the President's Council on Sustainable Development and the Environmental Protection Agency's Common Sense Initiative.

Throughout Adams' career, he has been recognized by a number of organizations for his work and has received several honors, including the League of Conservation Voters' Legacy of Leadership Award; the Wilderness Society's Robert Marshall Award; the Judge Lumbard Cup for public service from the United States Attorney's Southern District of New York; the Frances K. Hutchinson Conservation Award from the Garden Club of America; Duke University's Distinguished Alumni Award and Duke University Law School's Charles J. Murphy Award.

Rebecca Chopp
Rebecca Chopp, president of Colgate University since July 2002 will become president of Swarthmore College effective July 1, 2009. At Colgate Chopp presided over the development and implementation of a comprehensive strategic plan that expanded the university's academic space by the largest amount in its history, including the construction of an interdisciplinary science center and a library/information technology center.

Under her leadership, Colgate has strengthened academic programs, expanded university-community partnerships, and developed the most successful campaign in Colgate's history with a goal of $400 million. During Chopp's tenure notable increases in admissions, improvement of student quality, and expansion of programs supporting diversity and globalization have occurred at Colgate.

Chopp joined the university from Yale Divinity School, where she served as dean and Titus Street Professor of Theology. Prior to that she spent 15 years at Emory University where she held the positions of provost and executive vice president for academic affairs.
Chopp received her bachelor's degree from Kansas Wesleyan University, her M.Div from St. Paul School of Theology and her Ph.D. from the University of Chicago.
A well-known scholar of religion and American culture, Chopp has authored or edited five books and has published more than 50 articles in her areas of expertise. In recent years her research and professional presentations have focused on changing structures and cultures of higher education, on the role of liberal arts in a democratic society and on religion and higher education.

Chopp currently serves on the boards of the Association of American Colleges and Universities and the National Survey of Student Engagement.

Stuart Scott '61
A 1961 graduate of Hamilton, Stuart Scott served as chairman of the College's Board of Trustees from 2002 to 2008. After graduation from Hamilton he earned a J.D. at Northwestern University School of Law and then began his career as an attorney with the Securities and Exchange Commission. In 1966, Scott turned his professional interests to real estate as senior vice president and director at Arthur Rubloff & Co., which at the time was one of the largest real estate companies in the Midwest. In 1973, he joined IDC Real Estate, which later became LaSalle Partners, Inc.

Scott served as chief executive officer of LaSalle Partners from 1990 to 1999 before organizing a merger with a British firm to form Jones Lang LaSalle, a worldwide real estate services and investment management firm, which he continued to lead until his retirement in 2004. Recognized as a respected and influential industry leader, he received the Real Estate Executive of the Year Award in 1999 and the 2004 Urban Land Institute Lifetime Achievement Award.

In retirement, Scott continues to be active in community and business initiatives. He remains an advisor to the LaSalle Investment Management executive committee and the firm's global investment partnerships and funds. In addition, he has served on the boards of the Rehabilitation Institute of Chicago, the Lyric Opera of Chicago, the Lake County Community Foundation, and as a director of Hartmarx Corp. and LaSalle Hotel Properties.

Scott was first elected to Hamilton's board as an alumni trustee in 1985 and became a charter trustee in 1989. He served as chairman of the Campaign for the '90s and the Annual Fund, and headed the trustee Committee on Residential Life.
Under his leadership as board chair, Hamilton achieved much success. The endowment surpassed $750 million. More than a dozen new facilities were completed, including major investments in the Science Center, the Kirner-Johnson Building and other academic facilities.