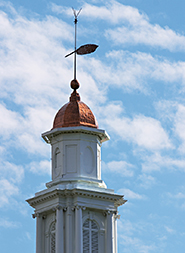 Hamilton Board of Trustees Chair Steve Sadove '73, P'07,'10,'13 and Bob Delaney '79 , co-chairs of the Presidential Search committee, announced in an email to the Hamilton community that the College's 20th president will be introduced today. The announcement will be live-streamed at 4 p.m.
Dear Members of the Hamilton Community,

Last week in New York, the Board of Trustees voted to approve the Search Committee's recommendation for Hamilton's 20th president. We will introduce that person tomorrow at 4 p.m. in the Chapel. The announcement will be streamed live for our alumni, parents and friends around the world. You may watch at this address: www.hamilton.edu/presidentialsearch
If you are not available tomorrow at 4 p.m., information about Hamilton's next president will be posted on the College's website following the announcement. Thank you to those who submitted suggestions and recommendations. With your assistance, we have attracted to Hamilton another outstanding president to lead our College.
Sincerely,
Steve Sadove '73, P'07,'10,'13
Bob Delaney '79