Hamilton's Muslim Prayer Room Unveiled
---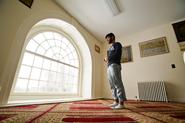 The Muslim Students Association (MSA) and the College chaplaincy recently unveiled Hamilton College's new Muslim prayer room. Located on the second floor of the Chapel, the prayer room is the first space on campus that MSA has been able to call its own.
"It used to be just a closet," said Chaplain Jeff McArn.
In the past, the chaplaincy has designated different places for Muslim worship, such as a partitioned portion of the third-floor meditation room and an office on the Chapel's third floor.
"The current Muslim prayer room came about after we decided that sharing an office with the prayer room was not a viable option," said MSA Advisor Mireille Koukjian. "The Muslim students needed a place to call their own, where they could feel comfortable practicing their religion."
"Splitting a space was weird," told MSA President Shakil Hossain '14. "But being in the Chapel seemed appropriate."
An "authentic prayer space," McArn explained, is what the students needed.
"Shakil pointed out the second-floor room," McArn said. "It was so big and had a beautiful bay window. We could sort of imagine it as a prayer room—but not fully."
Bags of soccer balls, giant crosses and menorahs filling the storage space detracted from its potential to serve as a place of Muslim worship.
"We cleared out the space and moved everything into my office," said McArn.
After organizing the area, design was the next step. Aside from the bay window and an air intake valve for the Chapel organ, the room was bare.
"Physical Plant painted the room," Hossain said. "But we still needed carpets." He noted that some mosques in his home city of Miami still lack the key component of Northeast - oriented carpets.
"Court Street Mosque in Utica had just redone their carpeting," Hossain said. "They forwarded us to Kemble Street Mosque, which had carpeting in the exact size we needed. A friend helped to bring the carpets to campus, and a man donated his time to install them for no charge."
Also new to the Chapel is a wudhu station, for ritual washing, on the third floor. Hossain explained the importance of having a designated wudhu station on the premises. Before the wudhu was installed, a standard sink was used for cleansing before prayer.
"It was awkward to try to wash my feet in a sink," said Hossain.
The wudhu station consists of a square shaped bath and a sitting stool, donated by Hamilton's Hillel.
Hossain said that MSA is trying to designate a time on Fridays for organized prayer.
"Since we don't have a huge core of Muslims on campus, people pray when they have the time," Hossain said.
McArn emphasized that occasions highlighting religion on the Hill, such as Spirituality 101 Week (which took place in late January), as well as important weekends on campus, like Alumni Weekend and Commencement, are opportunities for the new wudhu station and prayer room to get more use.

These new additions could "make a big difference in who might consider attending Hamilton," he said.
Koukjian added, "Doing this has proven once more Hamilton's commitment to diversity and the wellbeing of every member of our campus."
But Koukjian doesn't see the new prayer room as MSA's endgame, by any means. "What I would like to focus on at this time is the purchase of books about Islam to add to the chaplaincy's library," she said. "These books will include a series on women in Islam, Islamic manuscripts, Islamic art, etc."
"Another project is a visit to the Metropolitan Museum of Art in NYC to see their new permanent exhibit on Islamic Art. I am hoping to be able to invite a master calligrapher to do an Arabic calligraphy workshop maybe next fall," she concluded.