Hamilton's New York Program... And All That Jazz
---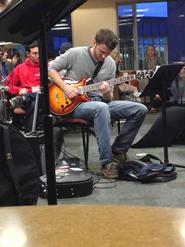 George Taliaferro's journey with jazz started in his hometown of Cincinnati, Ohio, continued on the Hill, and has led him to the National Jazz Museum in Harlem. A participant in Hamilton's New York City Program this semester, Taliaferro '15 builds upon his interests as an intern for the renowned organization. Taliaferro's internship with the National Jazz Museum continues the strong legacy of jazz connections to the College.
Taliaferro focuses on guitar in jazz band and combos, an instrument he picked up after witnessing jazz lounge performances in New Orleans at age 12. "We went to this lounge late at night and listened to this woman sing her heart out. I didn't move for two hours. I was hooked," Taliaferro said. Soon after, he joined his Cincinnati high-school jazz band, and this experience led him to pursue jazz while at Hamilton. After relaying his passion to his advisor, Professor of Comparative Literature Nancy Rabinowitz, she suggested Taliaferro explore an internship at the museum.
Back on the Hill, Taliaferro's involvement with both jazz band and jazz history classes has made his pursuit at the Museum a natural one. "Taking jazz history courses gave me a solid background in the history of the music, and made me want to keep studying and exploring," said Taliaferro. He also credits Hamilton with fostering his musical development by allowing him to run creative jazz combos for half-credits, such as "The Bret Quintet" and "Chill Evans."
Taliaferro continues to draw on advice from different Hamilton mentors while in New York City. Professor of Music Michael Woods, better known as "Doc" to his students, has greatly impacted Taliaferro with his philosophy of jazz as improvisational music. "Doc always talked about getting your name out as a musician by sitting in on jam sessions and rehearsals," Taliaferro said. Immersing himself in the culture of the museum has already opened doors for him by teaching him where "the best places in the city are to go and play with others."
Since arriving in New York, Taliaferro has remained busy in classes taught by Hamilton professors and with his efforts at the National Jazz Museum. His tasks include administrative work, as well as educating visitors about the organization as they tour the museum. However, his main focus resides on the Museum's archive.
"My big project for this semester is organizing hundreds of interviews with famous jazz musicians, critics, and celebrities into an accessible archive on the website. People interviewed include Jimmy Heath, Russell Malone, and even Kareem Abdul-Jabbar," Taliaferro explained.
While Taliaferro organizes interviews for the National Jazz Museum's archive, Monk Rowe continues to head the Fillius Jazz Archive back on the Hill. Rowe, the Joe Williams Director of the Jazz Archive, has taken over this archive since the creation in 1995 by Milt Fillius '44. Fillius, a former trustee of the College, created the Archive when he realized that his favorite jazz musicians of the 1930s, '40s, and '50s were beginning to pass without telling their stories. Their interviews are "not just about music, but about American history and sociology…there are different life experiences involved," said Rowe.
The Archive, a branch of the Burke Library Special Collections open to both students and researchers, sits just beneath McEwen Dining Hall today. The room evokes a strong sense of the history of jazz at Hamilton. Along with the 315 interviews in the archive, a glass case holds memorabilia of jazz vocalist Joe Williams, including one of the two Grammy awards he won during his career. The star, who lent his name and reputation to help build the archive, teamed with Fillius to create a haven for jazz lovers and performers alike. Hamilton's legacy grows stronger as students like Taliaferro reap the benefits of the strong jazz programs and resources offered on campus.
Outside of the academic realm, well-known performers are repeatedly drawn to the College. Though Alumni Gym no longer holds concerts like that of Duke Ellington, Wellin Hall provides a great space in which up-and-coming jazz artists may perform, such as Ben Williams last year; a more established Nina Freelon is scheduled to come this April.
When told of this news back in New York City, Taliaferro expressed similar excitement of most jazz-lovers on the Hill about Freelon's appearance: "Is she seriously coming? I might have to come back that weekend."