Hamilton and Clinton Elementary Celebrate Arbor Day
---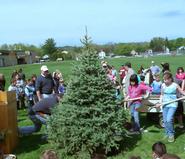 Hamilton College and Clinton Elementary School celebrated Arbor Day with a tree planting on April 30 at the elementary school. This marked the fourth Colorado Spruce planted for Arbor Day by the Hamilton Arboretum for the Clinton Elementary School. The spruce was planted in honor of Clinton resident Tom Evans, Sr., who is 90 years old and has been volunteering at the school for five years.

Each student who created an Arbor Day poster for the school display received a pussywillow seedling to plant in his or her yard. The pussywillow seedlings came from the Saratoga Tree Nursery, which is run by the New York State Dept. of Environmental Conservation.

Lesley Urgo was also acknowledged for her work with the Hamilton College Arboretum. She and her husband Dean of Faculty Joe Urgo will be leaving Hamilton at the end of the academic year and moving to Maryland where he will assume the presidency of St. Mary's College of Maryland on July 1.

She was integral in elevating the annual Clinton Arbor Day celebration to what it currently is with a poster contest, certificates and seedlings for children, and the annual Colorado Spruce plantings.