Hamilton Volunteers Log More Than 12,000 Hours of Service
---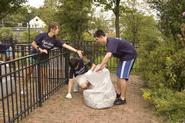 During the 2009-2010 academic year, close to 500 Hamilton students and employees contributed more than 12,000 community service hours in local and remote communities.

Incoming first-year students contributed more than 3,000 hours during fall orientation; 44 students contributed 980 hours on the Urban Service Experience orientation program and all 510 first-year students participated in the second annual Hamilton Serves! program in August.

The student-run organization, Hamilton Association for Volunteering, Outreach and Charity, contributed 1,048 hours first semester and 1,748 hours second semester. Ninety-four students spent a total of 2,650 hours on Alternative Spring Break programs, collaborating with organizations like Habitat for Humanity in nine locations across the United States.

Other major service contributions were made on Martin Luther King Service Day, Make a Difference Day, and through programs such as Hamilton Against Hunger, ABC Tutors, and by service interns with Hamilton's new Community Outreach and Opportunity Project.