HamPoll Surveys Compile Student Opinion
---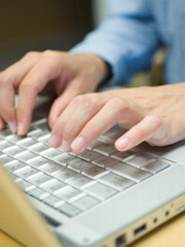 Approximately once a month, a small but dedicated group of students collaborates on a survey for Hamilton's student body. HamPoll, Hamilton's polling organization, has emailed out surveys about topics ranging from dining hall food to Swine Flu to political opinions. The results of these surveys allow students to learn more about the diversity of opinions that surround them, as well as the trends in opinions or habits they engage in.
Bret Turner '13 joined HamPoll in his freshman year at Hamilton. He originally became involved out of general interest in the group and is now its president. Though only about five members are an active part of the organization, their efforts reach hundreds of students. Typically the group attracts economics or psychology majors. While HamPoll does not follow any particular set of guidelines for writing the surveys, Turner relates that the polls are always written to be as unbiased and inoffensive as possible.
Olivia Robertson '12, who collaborates with Turner at every stage of the writing process, states that the typical survey contains 15-20 questions and includes a section on demographics. Robertson states that her involvement in HamPoll stems from her personal interests. She says, "I'm very interested in statistics and surveying human populations to come to some sort of conclusion or to extract expected or sometimes surprising results."
The group is given a high level of freedom in choosing and writing the surveys. Julio Videras, associate professor of economics, is HamPoll's advisor. Videras provides some guidance in phrasing questions and technical assistance, but otherwise it is the students who make most of the major decisions. The topics are chosen based on current events and popular topics of discussion. The polls aim for engaging topics to get as many students involved as possible. Campus life in particular is a major target for HamPoll's surveys. Though many of the surveys are serious in nature, HamPoll will occasionally send out a comic one. In addition to eye-catching subjects and thought-provoking questions, students are often automatically entered to win gift cards to local stores or attractions upon completion of a survey. All polling is done online, after which it is analyzed using SPSS statistics software. The surveys themselves are presented using technology from Google Docs.
The results of the surveys are frequently published in campus publications such as The Spectator and The Continental. In this way, they are brought to students' and faculty attention, helping to raise awareness about issues, highlight trends in student opinion, or even just provide a laugh.
Furthermore, students use HamPoll statistics in class papers. Sometimes surveys are written specifically for a particular student's senior thesis. In addition, when other groups wish to gauge interest on their particular area, they may team up with HamPoll to create a campus-wide survey. Turner states, "We provide a way for students to learn a bit about their peers."
HamPoll's reach extends to many aspects of campus life. It provides a cohesive way of uniting the student body and collecting its many voices. By compiling statistics in an organized and unbiased manner, HamPoll creates a meaningful assemblage of data that anyone in the community can access.