Hamilton Welcomes Accepted Students to the Hill
---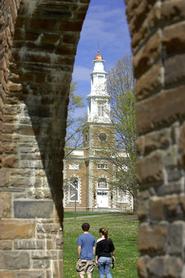 Students accepted to Hamilton's class of 2014 will get a chance to determine if the College is a good fit for them when they attend Accepted Student Open House on Monday, April 19. A full day of
activities
is planned for accepted students and their families in an effort to illustrate all aspects of a typical day at Hamilton.
President Joan Hinde Stewart and Dean of Admission and Financial Aid Monica Inzer will start the day with welcoming remarks. Accepted students can then choose from a program of events that includes faculty seminars in physics and English, a talk geared to students offered January admission, informational seminars about life on the hill, wellness and athletics, study abroad, and student research opportunities at Hamilton.
Campus and residence hall tours, the opportunity to sit in on classes and a campus organization fair are also on the schedule.
Students offered admission to Hamilton as Bristol or Schambach scholars will have the opportunity to hear research presentations by five current scholars in a special end-of-day event. Scholars selected to these programs, honoring William M. Bristol '17 and Hans H. Schambach '43, are recognized for representing the highest level of personal and academic achievement and are chosen from each entering first-year class to Hamilton. Typically, winners are in the top five percent of their high school class with equally outstanding standardized testing and demonstrated leadership and community involvement.
Scholars who demonstrate financial need will have their full need met with scholarship and be loan-free for each of their four years. In addition the Bristol and Schambach Scholars can pursue a research project that includes a $4000 stipend and concludes with the presentation to the Hamilton community. There are currently 14 Bristol/Schambach scholars in the class of 2010, 18 in the class of 2011, seven in the class of 2012, and nine in the class of 2013.
Dean of Admission Monica Inzer noted, "From the moment we mail our decision letters, we celebrate and honor our admitted students in many different ways, all the while reminding them of how much we hope they'll choose Hamilton. But the Open House is a great way for our entire community to come together for one day to celebrate our newest admits and show off our campus and community with pride," she said. "We're grateful for the widespread support and contributions from so many constituencies to the day's success."