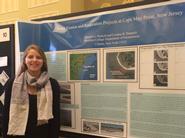 Hannah G. Haskell '15 presented a poster titled "Beach Erosion and Restoration at Cape May Point, New Jersey" at the 50th Annual Meeting of the Geological Society of America - Northeastern Section. The conference was held March 23-25 in Bretton Woods, N.H., with a technical program that consisted of symposia, theme and general sessions, arranged in oral and poster format.
The work presented was based on Haskell's senior thesis with Professor of Geosciences Cynthia Domack.
Haskell, a geosciences major from Chadds Ford, Pa., is a candidate for May graduation. She is the daughter of Harry and Kim Haskell and attended Unionville High School.