HCJYF Students Visit Paris Passages
---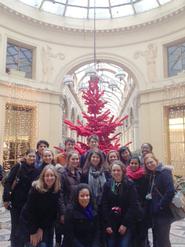 On Dec. 15, students from the Hamilton College Junior in France (HCJYF) program visited several covered passages, or arcades, in the heart of Paris.
The students began at the site of the earliest structures, the Galeries des Bois (1786-1829), at the Palais Royal. The tour continued with visits to six other passages in the area around the Bourse (the French stock exchange) and the Grands Boulevards neighborhood.
"A product of commercial speculation, these ornate iron and glass-roofed arcades allowed pedestrians to take shortcuts from one street to another," according to Cheryl Morgan, associate professor of French and director of the HCJYF. She said they became highly popular sites for shopping, strolling and socializing and were among the first spaces to use gaslight. "Built next to theaters, they housed publishers, fashion shops, public baths, shoe shine stands, cafés and all manner of stores selling sundry items," Morgan added.
"The heyday of these ancestors of the shopping mall extended from 1820-1850, after which they were soon eclipsed by the rise of the large department store and public transportation," Morgan explained. Though considered retro today, she said "the Paris arcades represented all that was modern in Paris during the first half of the 19th century."