HEAG Celebrates Green Week
---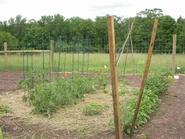 The Hamilton Environmental Action Group (HEAG) is holding its annual Green Week celebration from April 22-27. Green Week is designed to promote sustainability and campus engagement in conservation efforts, and will feature daily events open to the entire Hamilton community.
Green Week began by recognizing Earth Day on Sunday, April 22, with a seed planting at the Community Farm.
On Monday, New York City environmental justice advocate Peggy Shepard will lecture at 4:10 p.m. in Bradford Auditorium. A guest of the Environmental Studies Department, Shepard is a successful grassroots organizer and environmental advocate and has fought for equality of clean air, water, and soil in underprivileged communities in inner cities.
On Tuesday, the film Addicted to Plastic will be screened in Bradford Auditorium at 7:30 p.m. The movie examines the worldwide scope of plastics pollution, investigates its toxicity, and explores alternatives.
Wednesday is "Pledge to go Veg" Day. Students, staff and faculty are encouraged to pledge to go without meat for "a meal, a day, or however long you want" to combat the environmental stresses caused by the meat consumption.
On Thursday, HEAG will host a campus clean-up at 4 p.m., starting outside Beinecke Student Activities Village. All supplies are provided by the Arboretum, and the first 15 people will receive a free t-shirt.
Green Week will conclude on Friday with a fire at the Glen House with acoustic musical performances beginning at 8 p.m.