Health Care Coverage and Affordability
---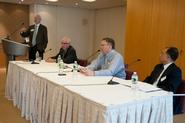 An alumni panel of experts, representing the payer, provider, legal and pharmaceutical perspectives, discussed the Affordable Care Act, commonly called Obamacare, at the 15th Annual 1812 Leadership Circle Weekend in New York on Saturday, Dec. 8.
"The current state-of-play with this healthcare legislation is complexity, uncertainty and the sheer magnitude of the task," said Russel A. Bantham '63, former executive vice president and COO of Pharmaceutical Research and Manufacturers of America. "There's a lot to work through."
Joining Bantham on the panel were Kevin J. Conroy '83, region president of Wellcare of New York; Drew S. Days III '63, the Alfred M. Rankin Professor Emeritus of Law and Professorial Lecturer in Law at the Yale Law School; and R. Christopher Regan '77, P'08, managing director of The Chartis Group, LLC, a firm that provides management consulting and applied research to health care organizations.
"It has been said that the United States is the only nation on earth where people think death is optional. The problem is us," said Regan, describing the enormous upward pressure on cost and the need to manage patient expectations. "We are heading for a time when health care expenditures will top 20 percent of the gross national product — and this could grow above 25 percent over the next 25 years." Contributing to this pressure, Bantham observed, is that each new drug costs between two and four billion dollars to bring to market.
The panelists all stressed the complexity of the legislation and the high degree of uncertainty about nearly every element of the 906-page law as the January 1, 2014, implementation date approaches.
In a pointed exchange, Bantham and Days illustrated the lack of consensus about some of the basic provisions of the ACA. Will the Independent Payment Advisory Board protect or restrict patient choice and rights? Days, a former solicitor general in the Clinton Justice Department, said the IPAB is not intended to insert itself between doctors and patients. Bantham, the retired longtime executive in the pharmaceutical industry, is skeptical that the board will be able to resist its mandate to monitor health care expenditures.
Conroy, the New York State director for a government-sponsored health plan, observed "It does seem clear at this point, however, that the ACA means more people will be covered, care will be more expensive, and service delivery will need to be increasingly more efficient as it moves away from fee-for-service and becomes more outcomes-oriented in response to stakeholder demands."
The event was hosted by Lea Haber Kuck '87, a partner at Skadden, Arps, Slate, Meagher & Flom. About 50 alumni, parents and friends attended.