Heekin and Walczyk Present Workshops
---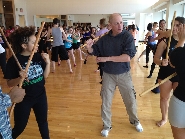 Professors of Dance Elaine Heekin and Bruce Walczyk presented during the New England American College Dance conference held March 14-17 at the Five College Dance Department at the University of Massachusetts at Amherst. Dance faculty from more than 25 colleges participated in the conference that was attended by more than 400 faculty and students.
Heekin offered a Pilates workshop addressing the importance of cross training for dancers who need both strength training and a vehicle for rehabilitation from dance-related injuries.
Walczyk presented "Capoeira and Filipino Martial Arts: Traditional use in Contemporary Context." In his combination lecture-demonstration-workshop, Walczyk focused on applications of edged and impact weapons used with empty hand in performance and practical self-defense.
Walczyk also presented "The Art of the Jo: How to defeat an undefeated Samurai" on March 9 at the Japanese Film Festival held at the State University of New York Institute of Technology. The primary topic of the workshop was how the jo, an adaption of the rokushakabo into a shorter length, was used to defeat the previously undefeated swordsman Miyamoto Musashi.