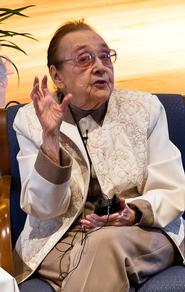 "My name is Helen Sperling. I am a Jew. I am a survivor." With these simple words, Helen Sperling began to recount her experience of the Holocaust before a crowd of Hamilton students and community members packed into the Chapel. During the course of the two-hour-long lecture, which was sponsored by the Days-Massolo Center and Hillel, Sperling recounted the darkest moments of her life with a vigor and compassion that belied her 92 years. Throughout her time in Polish ghettos and prison camps, Sperling's indomitable spirit sustained her in the face of incredible hardship and heart-wrenching sorrow.
At the beginning of World War II, Sperling was the age of a typical college student. She was born to a middle class family in a small town outside of Warsaw, and was home on school vacation when the Germans invaded.
"The first thing I remember about the Germans was the boots," she said. "Ugly, ugly, black boots." The German soldiers wasted little time in alienating the Jewish population of Sperling's town. Her family was rapidly evicted out of their home, which was custom built by her father, an architect, and put into a ghetto. Although Sperling and the other members of the Jewish community in her town remained optimistic, they soon began to realize the true extent of the Nazi's plans.
"You did not realize who was your friend and who was your enemy," Sperling remembered. In particular, she recounted the story of her temporary escape from the ghetto to wish her closest childhood friend, a gentile, a happy birthday. After Sperling was able to secure a phone to call her friend, she was sharply rebuffed with racial slurs. After that, Sperling recounted, "something dreadful happened to my soul."
Like many other Jewish families, Sperling, her little brother, and her parents were eventually deported from the ghetto and scattered into the infamous death and prison camps. Sperling initially was placed into Ravensbrück, which was a "transition camp," where Jews were subjected to repetitive and demeaning manual labor in order to break their spirits. The squalor, hunger, and fear present in the camps was overwhelming, but Sperling managed to endure.
"Ninety-nine percent of our survival was sheer luck," she said. "A little tiny bit of it was hanging on to dignity. Once you lost that, you didn't have a chance."
Her parents were not so lucky. They were sent to death camps, where, like six million other Jews, they perished at the hands of the fanatical Nazi regime. Sperling was quick to observe that six million is a fantastically huge number—difficult for anyone to imagine. But as Sperling took out two photographs of her parents, she brought the statistic crashing home:
"These are not numbers," she said. "These are mine. And I miss them terribly."
Despite the seemingly insurmountable challenges, Sperling and her fellow prisoners were able to help sabotage the German war effort. After they were transferred to Buchenwald, the prisoners were employed in a munitions factory where they produced artillery shells. The women would regularly make defective shells while their overseers were occupied with other tasks. These small acts of revenge, Sperling remembered, helped maintain her spirit.
The Nazis regularly tried to pit the prisoners against one another, but Sperling underlined the compassion that each of the women had for each other. One woman who regularly stole Sperling's meager bread ration once put herself at great risk to steal paper for Sperling to write poems on.
"She still owes me the bread," Sperling joked, "but I owe her my humanity."
The Allies liberated Buchenwald in April 1945. Sperling spent the next three years in a hospital, recovering from kidney cancer and malnutrition, but was also reunited with her younger brother, who discovered her after years of separation. By 1949, Sperling and her brother had successfully emigrated to America, where Sperling married a fellow Holocaust survivor and adopted two children. She began to speak about her experiences more than 50 years ago, partly to raise awareness after her daughter was slandered at school for being Jewish, and partly to remind people that despite the lessons of the Holocaust, genocide has not stopped.
"We say it's them, not us," Sperling said. "That's such a mistake. You cannot be a bystander. A bystander is someone who helps the evil."
But Sperling's role as a public speaker also serves a much deeper and more personal function.
"There is no such thing as closure to a survivor," she told the packed room. "No such thing. I need to tell you the stories that happened because they help me to survive."