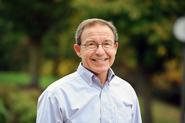 Oral Communication Center Director Jim Helmer participated in the Summer Institute of the Alan Alda Center for Communicating Science June 10-13 at Stony Brook University.
Helmer was one of 60 applicants selected for the program. Participants came from 49 institutions that included colleges and universities as well as the American Chemical Society, the Bill and Melinda Gates Foundation, the Lawrence Berkeley National Laboratory, the National Science Foundation, the U.S. Government Accountability Office, the National Institutes of Health and several medical schools and other health care organizations.
The goal of the Alda Center Summer Institute was to share the Center's principles and methods for developing more engaging and clear communication about science so participants could apply those tools in helping their own students and colleagues.
Instructors included science journalists, medical school professors, healthcare professionals, actors and media professionals, among them producers of PBS science programs and CBS' 60 Minutes. Hands-on workshops focused on developing audience-engagement skills through improvisation and storytelling and on developing skills in distilling a message and translating it to critical audiences of non-scientists, such as politicians, funders and the general public.
"It was exhilarating," Helmer said, "to work with people from so many different places and specialties all focused on the common goal of developing more effective communicators. The sessions were a gold mine of ideas for how to create clearer and more compelling messages with stronger audience connections."
The Alan Alda Center for Communicating Science is named for actor Alan Alda, who has had a lifelong interest in science and was instrumental in establishing the Center. Alda, who holds a professorship in the Center, gave the keynote talk at this summer's institute.