Henok Alemayo '10 Internship at Peace Institute Lays Groundwork for Career
---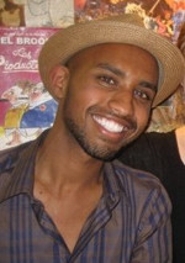 Henok Alemayo '10 feels connected to a very specific area of the world due to his upbringing. He is a former refugee from Ethiopia who escaped persecution during the Red Terror. His father, a suspected insurgent and rebel during the reign of a military dictator, spent four years in prison and experienced torture and death threats. After a few years, he and his family escaped to the United States. Alemayo says he cannot imagine a career unrelated to peace-making or international relief.

This summer, he has an internship at the Peace Institute in Indianapolis. Through the Institute, he is also working with Well Done Marketing and The Second Story, a nonprofit creative writing project for young writers in Greater Indianapolis.

The Peace Institute is a program that familiarizes college students with non-profit organizations that encourage peace-making strategies. In hopes of offering students ways to confront social or political strain, it holds community dinners and hosts guest speakers every Tuesday night. Fridays are set aside for service activities. The rest of Alemayo's time is spent at Well Done Marketing, a small marketing and advertising company that serves nonprofit community and cultural organizations in Indianapolis. He is responsible for helping Assistant Director Jim Walker with writing, research, and web technology for their nonprofit clients. One such client is Second Story, a non-profit that helps children develop their voices through writing and story-telling.

The project involves creating audio slide show projects with a youth news network and elementary school students from School 54 in Indianapolis. Alemayo ran training sessions with the younger students, teaching them how to use a marantz, a digital camera, and offering them useful interviewing tips. He also worked closely with the John H. Boner Community Center, a lower-income, increasingly gang-infested neighborhood in Indianapolis. The students interviewed various business owners, artists and community leaders in the area.

"The main purpose of the project is to empower [them]," Alemayo said. "The students start to develop an appreciation for their community despite its apparent flaws.

"At first glimpse, the kids seem like your average elementary school students," he continued. "They enjoy playing video games, talking about their pets, and reading Harry Potter books. But many of them are not surprised to hear gunshots in the middle of the night from their homes."

The joy of working with the children took Alemayo's mind off their pasts. Besides learning about how to use technology to relay a message, Alemayo gained an appreciation of teamwork and communication. The internship has applied marketing and public relations skills to the development of non-profit organizations.

His position, though, was unpaid. Alemayo wanted to accept but first needed to apply for the Joseph F. Anderson Internship Fund, which provides stipends to students who have full-time summer internship offers. A student in any area of intended or declared area of concentration may apply.

Alemayo feels that the opportunity is giving him plentiful options and contacts. So far, he has met with organizations like the World Refugee Fair, the Global Peace Initiative, and the Sagamore Research Institute. Last year, Alemayo went abroad to France, and his fluency will allow him to do a teaching fellowship in West Africa and political structure research in Ethiopia. He knows graduate school is also in the near future, and plans to study issues in African conflict resolution. A job in a poverty relief program with the United Nations or another international philanthropy is his ultimate goal.