Hillary Kolodner '14 Interning at Senegal Community Center
---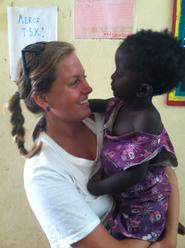 After studying abroad in Melbourne, Australia, Hillary Kolodner '14 knew she wanted to spend more time outside the United States. She chose to work for Taxawu Suñuy Xales, a community center in Yoff, Senegal. Started by the Belgian non-governmental organization (NGO) Afractie, the center opened in 2002.
Kolodner took a Poverty Economics and Development course with Professor of Government Steve Orvis, which stimulated her interest in world politics. She said she "wants to gain a better understanding of poverty by actually living in a developing country and seeing how people live there." The Joseph F. Anderson '44 Internship Fund, administered by Hamilton's Career Center, is supporting Kolodner's non-traditional internship experience.
Kolodner wanted to visit Africa, but said "I needed to be more than just a tourist during my stay." She chose Senegal because French, which she learned in high school, is the official language. Many citizens also speak Wolof, and Kolodner has been learning the language's conversational terms.
Senegalese children travel to the center daily to receive free education and medical treatment and to play games. About 30 children from the surrounding area visit the center each day. Their homes are typically nothing more than cement walls with no roofs, running water or other conveniences.
The center is also open to talibés, the Wolof word for street children, who typically receive schooling from religious leaders called marabouts. These children are forced to beg on the streets and return their earnings to the teachers. The practice, which was banned for five years before being legalized again in 2010, is still very common within the corrupt government system. Talibés live in homes called daaras, where they are fed and taught by the marabouts. Volunteers visit and clean these poorly kept structures once a week.
Kolodner teaches the children math and French. Between classes, the children play, nap and are provided with meals and snacks. The foster home has a large library that is usually untouched, but Kolodner has "been working on incorporating more reading into the day." She spends plenty of time reading aloud and encourages the older kids to read to younger ones. Kolodner has also assumed first aid responsibilities, like caring for the children's daily injuries and providing locals with other free health services.
Kolodner said, "The work is really rewarding and I love being able to give the kids the attention that they need." Staying with a host family, she is also learning the local traditions while serving her new community.
Giving up silverware in exchange for the traditional Senegalese eating methods was difficult at first, although Kolodner now fully embraces the experience. Rather than eating at a table with plates and silverware, a communal platter is placed on the floor between the family members. Each relative then collects bundles of rice, fish and sauce to eat with their hands.
Kolodner is spending six weeks in Senegal, and another four weeks will be spent at the United Way in Baltimore, where she'll work with the major gifts and impact strategy team. Her duties will involve unifying charities and organizing fundraisers to benefit low-income families, healthcare and education systems. With a concentration in government, Kolodner hopes to continue her international aid efforts after graduating.
Kolodner was introduced to teaching was through Let's Get Ready!, a tutoring program for low-income high school graduates applying to college. She is also an active volunteer with America Reads and hopes to bring her teaching experience to more international locations.
Kolodner is a graduate of Friends School of Baltimore (Md.).