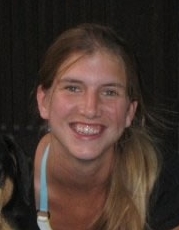 Hirshfield '02 Discusses HCI at Syracuse University
Research Associate Leanne Hirshfield '02 presented a talk titled "This is Your Brain on Computers: Using Non-invasive Cognitive and Physiological Sensors to Enhance Human-Computer Interactions" on Dec. 7 at Syracuse University.
Hirshfeld described ongoing research in Hamilton's Next Generation Usability Lab where she focuses on Human-Computer Interaction (HCI). Using non-invasive brain measurement, Hirshfield studies computer users' mental states in realistic working conditions. The resulting data can be applied to usability testing and adaptive system design.