History Comes to Life for Washington Program Students
---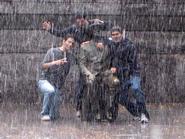 After a recent morning seminar discussing the first 100 days of the presidency of Franklin Roosevelt, students in the Washington Program spent the afternoon exploring the New Deal.
The excursion began with a visit to the Smithsonian American Art Museum to see an exhibition of paintings of the American scene that were funded by the
Public Works of Art Project
. From there, the group made its way via the Jefferson Memorial to the Franklin Delano Roosevelt Memorial on the western edge of the Tidal Basin. The memorial traces the life and times of FDR through four outdoor rooms.